I hear you screaming in a distant....
AGAIN?!?
YES, again!!
Hong Kong!!
This time round,
things are alittle different....
Uncle Sam is getting MARRIED!!
And we are there to play entourage!!
YaHooOOOOooOooooo!!

"Michelle Bear and Sam Bear"
from Nicholas & Bears

14th May: Mummy travelling ALONE with 2 devils in disguise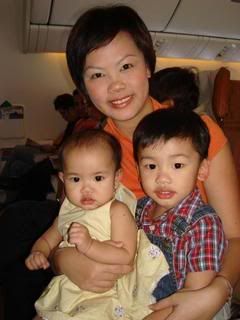 15th May: THE BIG DAY "Michelle & Sam"
"I do"
I now pronounce you husband and wife....
Mr and Mrs Tan!!
YEAH!! ALL DONE!!
We are all dead hungry......
*giggle*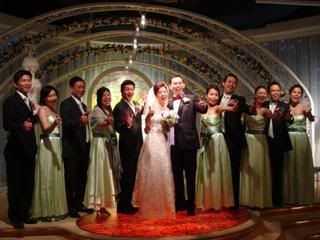 Just trying to be a GOOD HELPER....
Pretty Cake huh....
Thank God it was a dummy
and we did not had to eat ALL OF IT!!
I dun wanna get FAT on CAKE!!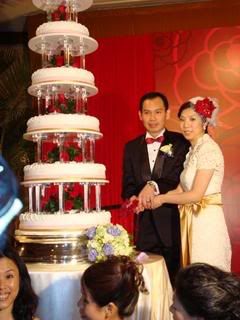 See that bubbly fuzzy drinks
gets these adults so merry and cheerful.....
I want one of those too!!
*NO MORE PICTURES*
Mummy was BUSY eating,
so therefore no more pictures!!
16th May: SHOPPING
17th May: Yum Cha, Dinner
and the chance to take the cheap cheap STAR ferry.....
(duhz... Which I slept through the whole ferry ride!!)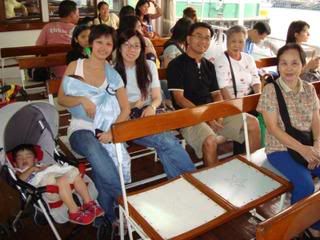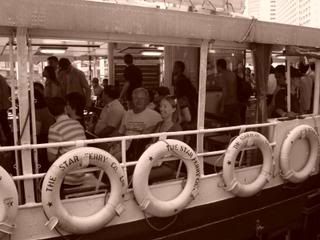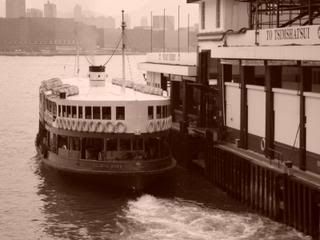 18th May: MORE SHOPPING!!

(oh man!!
You can never trust GIRLS when it comes to shopping!!
Their ONE IS NEVER ENOUGH theory KILLS!!
Leave them alone in the shopping malls
and you are doom!!
Mummy had to SIT on her suitcase to close it!!)

19th MAY: (Suppose to be.....) Home!!
Mummy bet on the fact that it is Monday...
and the load is SUPPOSE to be LIGHT...
and the chances of being BUMP off is LITTLE....
BUT.... "TEH" *sound of buzzer*
We were BUMP off from 11am till 8pm!!!!
Yes!! We waited the whole day,
and did not get onto the airplane!!
Every sit on the aircraft is filled!!
Right to the brim!!
Just like packed sardine!!
Why is that so?!?
Coz it is a public holiday in Singapore...
VESAK DAY!!
Everyone's going back from a short getaway...
and mummy is still in a blur!!!!
Sigh.... gotta stay in Hong Kong for another 2 more nights...
coz the flight on 20th May is fully booked as well!!
We took a bus to Uncle Sam's place....
seeking refuge for 2 more nights!!
20th May: Uncle Sam's place
21st May: HOME SWEET HOME finally!!