I've always love to attend weddings.

Especially chinese traditional weddings!!
My first time lim teh from newly weds
*virgin attempt*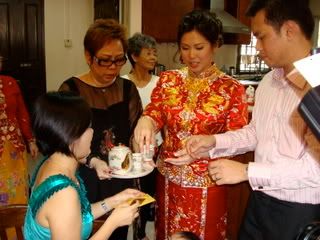 Sophia delighted to get her angbao 
from uncle wilson and auntie lucretia
Remember in my last post I said that 
I was still short of my kasut manek 
to complete my whole nonya look!?!?!
Little did I know that 
there is a kasut manek craftsman in my family!!!!
Auntie Judy!
Look at this amazing shoes she beaded!!
She T-loan me this pair of shoe,
and I am so in love with it!!
I want to learn how to make it!!
That's Auntie Judy with the bride
One in sarong kebaya the other in kua
So traditional hor!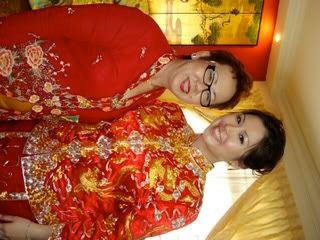 The bride glowing in joy!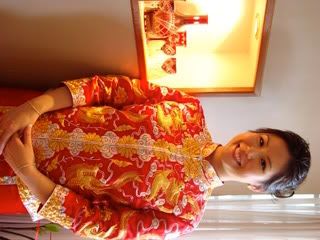 Wedding dinner was held in Furama Riverfront Singapore
Nice company, Nice Food....
Bride's speech was very touching,
I teared upon hearing it....
I could relate to her speech....
On how stubborn we are, 
but still the parents are loving....
Auntie Iris & Uncle Ricky used to take care of me 
when I was younger.
I would say I am the hardest to care for....
I was too playful & too stubborn,
But still their love & care still prevails!
The are like my parents to me.
Auntie Iris, myself & Uncle Ricky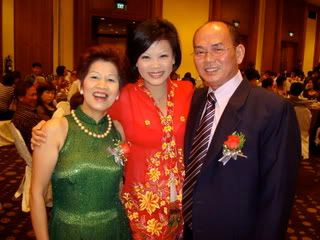 That's of course me and my real birth mother!
See the striking resemblance?!?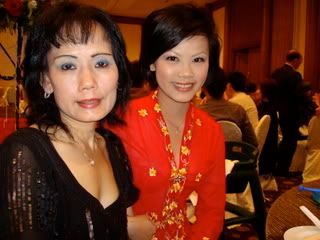 Uncle ricky joked that Auntie Iris gain 5 daughter 
through these years!!!
That me that they cared for 5 years,
Lucretia, Sharon & Joann
(their real daughters)
& ting ting, 
the baby Auntie Iris took care of...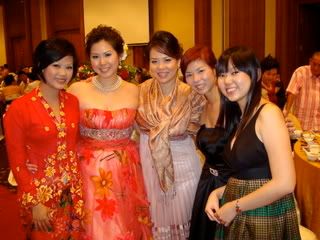 And the kids were all having a jolly good time!!
Brendon, Sophia, Jayden & Hiroshi