I had a feeling that we were having a reunion dinner
for my niece;Daphne's wedding.....
Almost everyone seated in the same table as I am
was in Daphne's wedding a year ago!
And Velda was one of her bridesmaid then....
But today,
we're celebrating the union of Boyce & Velda.....
Needless to say,
our table was the most happening ones with the most fun!!!
Daphne & Myself
(see Boyce & Velda's photographs
playing on the screen behind us!!
Didn't know Kitson so "artistic" in taking pictures...
Good framing hor!!!)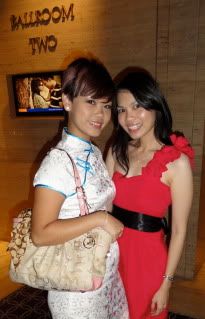 I super duper *heart* her red dress!!!
Kitson & Myself
I think I've been putting on weight again!
Arrgh...
*shoo shoo*
Go away FATS!
Somehow cousin Angelina commented before that they like alike...
Any resemblance?!?!?!?
Daphne & lil princess Spohia
The ever loving couple;
Armand & Daphne along side with Super cheeky Hiroshi
Daphne's best friend; Peggy
With 2 hyper active kids from the free flow of coke!
Peggy's getting married in December this year!
Congrats in Advance!!!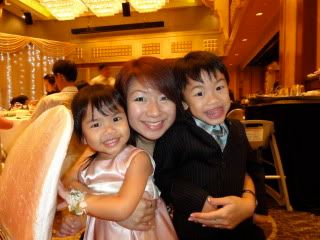 This would be the reason
why our table was the most happening ones...
Cause all the Glamours & Happening people are there!!!
How could you not have fun with the whole bunch of us?!?!?!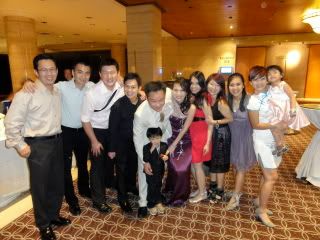 Finally,
This is Hiroshi's YUM SENG to the couple,
wishing them 百年好合, 早生贵子......