I know that this is gonna sound a lil CRAZY....
But, I realized that we LOVE hosting parties at home,
and best of all it keeps me motivated
to keep the place cleaner than it is suppose to be!
*Big Fat Grin*
Since I had to keep up my reputation as the Queen of Impromptu,
We hosted a last minute party!
Preparation was total madness,
with Kitson and myself
waltzing around the miserably small kitchen.
But somehow,
we managed to pull through,
and got great feedback from our dinner guest.....
So here's presenting our
"With love from,
Melbourne,
All Things Fresh,
Any fresher you'll have to fly there yourself!" Party.....
Kitson marinated all these while he was at 35,000ft!
That truly explains how we could have a dinner part at 7pm
when he touches down from Melbourne at 4pm!
Honey Mustard Pork Cutlet
Red Wine Lamb Cutlet
I think this was the most expansive cut in tonight's dinner.....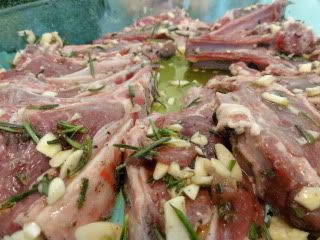 Beautiful Vegetables
waiting to be
Roasted to Perfection.....
Guest Arrives,
Left: Red Wine lamb culet
Right: Rosemary Rack of lamb
Verdict: Finger licking good!
Kitson wolfed down 7-8 pieces himself,
pretty RARE for someone who doesn't like lamb!
Honey mustard pork cutlet
Verdict: not too bad... but need more work!
Cold pasta salad garnished with roasted walnuts
Baked potatoes with creamy herb cheese & sinful bacon bits
I'm sure nobody had noticed
that it was my 1st attempt baking potatoes,
since one of our guest commented that this is "HOT STUFF"!
Lovely Mango Fruit Tart sponsored
by my sister-in-law; Peggy for desert!
Happy Cina Birthday Mama!!!
See! We are always finding perfect excuses to indulge ourselves!
How not to be horizontally challenge woh?!?!?!?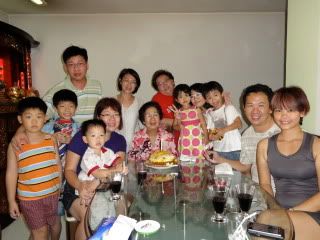 Many thanks to all that came....
I'm looking forward to hosting more dinner parties at home!