An fun filled educational day at Q-dees today.
-Hiroshi took us to his classrooms
-Chen lao shi telling us the story behind Chinese New Year
-Performance by the kids
(Hiroshi was busy hugging onto my leg! 
Therefore NO PICTURE of him performing!!
Duhz!!)
-Lion Dance
-Loh Hei Yu Sang
-Buffet
-Tea Ceremony
(This is an interesting bit. 
They taught the children how to serve tea to their parents....
And also taught them to utter 
some 大吉 大利 的 话 while serving the tea!!
Preserving traditions!
I love this part!)
-Games
Hiroshi & Rachel waiting for the Lion Dance troupe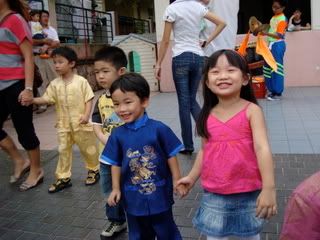 The kids went really wild chasing the lion all over the school
Hiroshi finally standing still to take a picture with the lion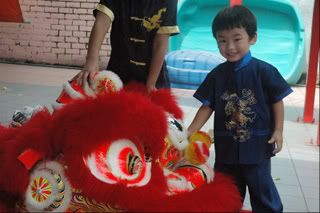 Hiroshi feeling all happy about 
having his OWN chopstick to Loh Yu Sang
You should have seen the mess the kids made with the Yu Sang
*giggle*