For the FUN of it,
I joined the Mother & Daughter Cheong Sam competition 
organised by Singapore Expo.....
The competition was stiff....

Every Mother & Daughter team were AWESOME!
Some even look like professionals in the business!!
These are the gong gong newbies...
Sophia & Myself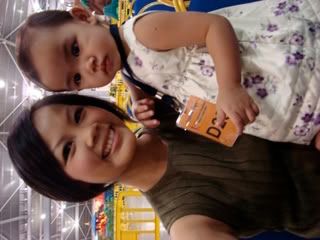 ~ON STAGE~
I was pretty amused by my ice princess,
she just stood stuck rooted onto the stage....
with a million of pair of eyes staring back at her!
She had No expressions AT ALL!!
She isn't even BLINKING!!
Thank GOD she didn't bawled!
Oh we even get to meet some "famous" Comedian!!
Abigail is one of my favourite comedian!
Her first appearance was in the sitcom Under One Roof.....
Her script still runs at the back of my head!
"Why is my tea so salty one?!?"
For those who forgot what happened in the sitcom....
She apparently CRIED into her cup of tea!!
So what if she is UGLY, 
and her life story seems like it is one tragedy after another....
She makes me LAUGH!
She is HILARIOUS!!
YOU RAWK ABIGAIL!!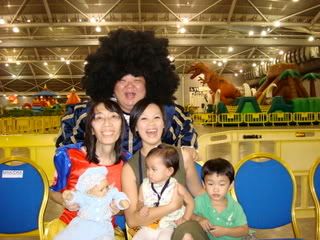 Erm.... Anyone know the name of this comedian?!?
All I know is that he is dead funny too!
But, I just can't put a name to that face!!
And finally, 
the moment of truth
~
~
~
~
~
We got into the FINALS!!
~can you spot us?!?~
The finals will be on 
17 January 2009, saturday, 4pm,
held at Singapore Expo Hall 4....
And if you happen to be just around that area.....
Do drop by....
We need your moral support!
*giggle*
Hiroshi was snoring away after the competition...
Poor boy....
His eyes must be tired from looking at so many pretty girls!!
Sophia at Ya Kun Changi Airport 
having tea break.....
Sophia giving hi-5s to the babysitter of the day; Ivy...
Thank babe! You've been a great help!