Our tickets that says "seats are not guaranteed"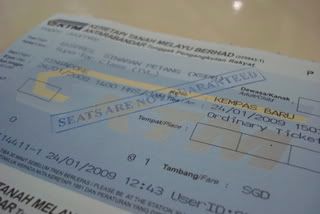 Hiroshi excited about visiting his cousins!
Sophia was just happy to be sitting in an air-conditioned train!
She was sweating by the buckets!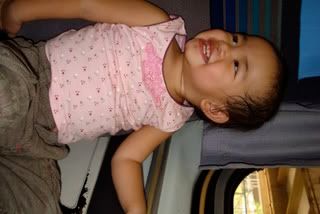 My verdict:
It was far better than I've imagined!
Thank god the trains are properly air-conditioned....
I can't imagine smelling sweaty armpits for 90mins!!
Overall very clean!
Just don't stand/sit near the toliets!
THEY STINK!
Estimated travelling time (including custom clearance): 90mins
Daily Train Schedule from Singapore(Keppel Road Station) 
to Danga City Mall & Kempas Baru

Cost:s$3.00
Singapore >> Danga City Mall >> Kempas Baru

5.35am>> 6.21am>> 6.45am

7.40am>> 8.34am>> 8.50am

2.00pm>> 2.52pm>> 3.10pm

7.10pm>> 8.06pm>> 8.30pm

Daily Train Schedule from Kempas Baru & Danga City Mall to Singapore
Cost: RM$3.00

Kempas Baru >> Danga City Mall >> Singapore

9.24am>> 9.37am>> 11.00am

2.05pm>> 2.19pm>> 4.11pm

6.38pm>> 6.50pm>> 9.00pm

7.57pm>> 8.08pm>> 9.35pm