Back Posting: 28th September 2008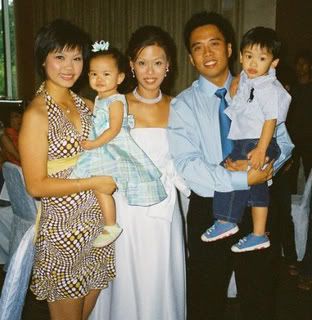 Photographs are finally OUT!!
But, the quality of it is TERRIBLE!
This is the BEST shot I've got!!


A bit a about Joyce:
We were flying buddies since 2001.
Please pardon my pack of bones in kebaya,
and the nerdy hairdo!
We were STILL "P" plate stewardess!!
We love snuggling up in one anothers' room,
with piping hot instant noodles,
gossiping about everything under the stars.....
(Picture taken in Tokyo Shinjuku Hilton Hotel)

I love sight seeing,
and she's a shopaholic....
(Picture taken in London with a beefeater)

She is pretty much the best buddy I've got!
Thank you for making my flying career enjoyable!
*giggle*
Thanks for the flight!

Once again, Congrats to Joyce and Alvin...
白头到老, 早生贵子!!