"Will you love her, comfort her, 

honour and keep her in sickness and in health 

and forsaking all others, be faithful to her, 

so long as you both shall live?"

"I DO!!"
These words rang in my mind the whole afternoon...
Fond memories of my own wedding came back to me....
*sweet smile*
How pretty is that,
for 2 different people to come together....
accepting one another,
and living together......
LOVE!
that's the magic word.
They say LOVE conquers all....
and I am sure it does.....
I love the man that I married
4 years, 9 months, 3 weeks & 6 days ago....
I am thankful for the 2 beautiful children we have.....
(and maybe more to come......)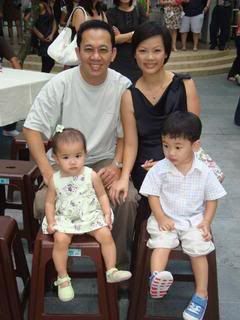 Congratulation Lucretia and Wilson....
You're finally husband and wife!
Made with Love...
Devil's food Cake
with cream cheese frosting
topped with strawberry
(as per requested by the bride)
The cupcake stand is DIY-ed too!
Pretty neat isn't it?!?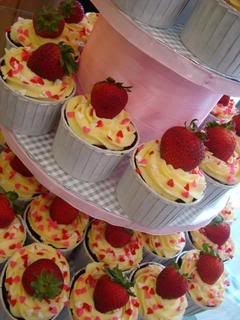 I lived with this bunch of cousins for 5 years of my life!
I can only say that I am a tad closer to them
L to R: Lucretia; the bride,

 (look how much she is beaming with joy 
after signing her卖身契.)
Joanne, 
(My teacher always asked her 
to report my DAILY bad behavior to my auntie....
She is the smarter one....
I am the SUPER DUPER PLAYFUL one!)
Sharon; the老大,
(she was the one that taught me patiently 
how to tie the bow on my doll's dress when I was just 7!!!
I doubt she remember it though!)
My auntie,
(OVERJOYED to have married off a daughter!)
Jaden; Sharon's 1st born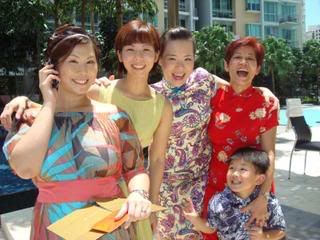 Sophia, Jaden and Hiroshi,
Basking in the HOT sun!!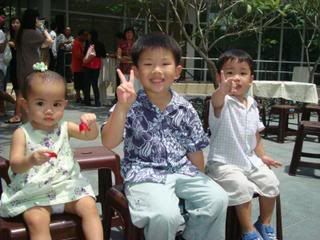 Hmm... Nice bunch of flowers!
Just the right size for me....
and it matches my pretty dress!!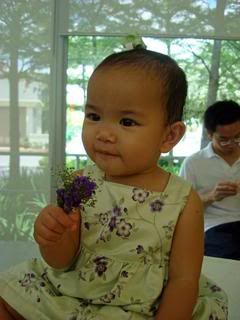 Hmm.... It smells so NICE!!!
Would you like to have it?!?