We shaved our heads BALD
to help create awareness
for the Children's Cancer Foundation!
To ensure that the kids totally knew what they were into,
we showed them videos of past events,
2009
(Part 1)
2009
(Part 2)





and watched the movie Patch Adams.
Hiroshi & Sophia
clearly understood the objective of this act
and agreed to be a part of it...
The event kicked off at Vivo City
with president S.R. Nathan as Guest-of-Honour....
We even assured the kids
that it was alright to back out at the very last minute
if they were not comfortable with the idea
of having their hair shaved....
I think it took them less then 3mins to shave off hair
that Sophia has been growing for the past 3 years.....
Host Adrian Pang & Cui Fang interacting with us...
Sophia was seen Laughing out Loud at 0.18s,
which sent the whole crowd laughing with her!
The host; Cui Fang, asked Hiroshi,
why did you shave you hair at 1.18mins,
He clearly answered
because I'm helping the cancer children!
Hiroshi's 1 min of fame with pretty Cui Fang 姐姐
*picture by Tony W-Jensen*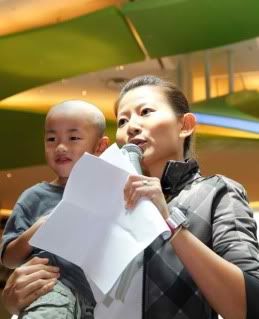 *picture by Adeline Yong*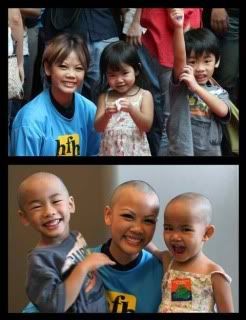 I am extremely PROUD of my kids!
I understand the fact that many people out there
might not be able to do what we've done
for the Children's Cancer Foundation.....
BUT,
I'm sure everyone reading this blog post
would have the power to donate
and help those who are truly in need.
PLEASE donate GENEROUSLY
to the Children's Cancer Foundation