It's pretty complicating talking about how we met
and became fast friends.....
I've known this bubbly girl for a year and still counting!
We've been invited to for a house warming party
which I am more than delighted to attend...
Adeline is a great preschool teacher.
She's got tons of interesting book laid neatly on the bookshelves
waiting for the kids to explore!
Toys and activities galore...
I knew my kids will never die of boredom in her place!
Sophia & the Sweet Host Adeline
Isaac with Wein's *very expansive* Optimus Prime
Oh well.... Boys will be Boys!
Sophia totally loving the host's speciality, jelly hearts!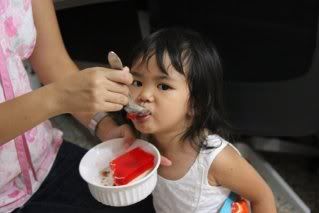 Thanks for the invitation!
We totally enjoyed it!