Just one look....
is all it takes...
Can you spot me in FreshKon's advertorial?!?!?
*waves*
Some pictures of me off FreshKon's facebook page.....
Picking up some tips from the Sephora make-up artist
super duper love this picture of myself
So demure looking right!?!?!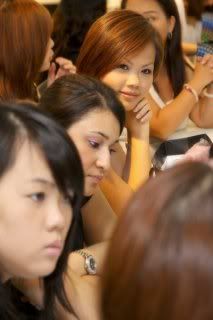 Totally NOT MY IDEA to pose like that!
I look terrible in POSED shots!
Arrgh!!
Btw, I'm featuring FreshKon Urban Grey Cosmetic Lens....
Kawaii neh!