Grace 3th birthday was celebrated
in true blue fast food style at Kallang Macdonalds.
Needless to say,
the kids had a fantastic time eating junk food
and catching up with "old" friends.....
Hiroshi would rather play than eat....
Sophia had countless helpings of cake!
The yummy pine garden hello kitty cake
thou the birthday girl has specifically asked for a wordworld cake.....
*Laughing Out Loud*
Margie, Grace & Myself
Christine, Grace, Margie, Myself & Patricia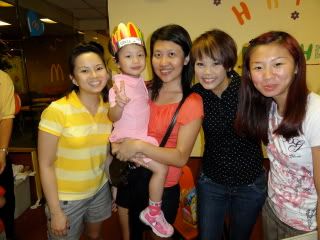 Happy Birthday Grace!!