Yes! It's in town....
and we had to go!
Hiroshi is a great fan of cars....
You should see his fast growing collection of cars....
His childhood till date is pretty much rolling cars
on the edge of the bed and making engine revving sounds.....
*giggle*
Although I think fighter jets are soon catching up on his interest.....
He watches "Top Gun" starring Tom Cruise over and over again....
That's his DVD highlight for the month.....
Geez... I think I can memorize the whole script at the back of my mind!!
Okay, now back to Formula 1....
Some Interesting facts about Formula 1 in Singapore....
-New anti-clockwise 5.067-kilometre circuit
-First night-time event in Formula One history
-2nd street race (the 1st one is held in Monaco)
- An average speed of about 175km/h has been calculated for the circuit,
with drivers expected to reach approximately 290km/h along the main straight.
-Entire circuit will be floodlit with the help of over 108,423 metres of power cables,
240 steel pylons and around 1,500 light projectors.
The light created is expected to be four times brighter
than that used at sports stadiums.
*Information taken from
www.formula1.com
*
Results for the fastest lap:

1st practice session:
Lewis Hamilton (Britain) McLaren 1 min 45.518 secs

2nd practice session:
Fernando Alonso (Spain) Renault 1 min 44.654 secs





All the F1 cars zoomed by in a blurry lightning speed.
We couldn't even make out which car went pass!

Guessing the driver's identity is near impossible!
All you hear is a deafening engine sound and
the distinct smell of rubber burning.....

Nevertheless, it was quite an experience!



At the end of the night;
Hiroshi is an EXPERT with EAR PLUGS!!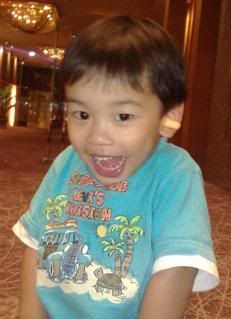 And Sophia is just happy staying away from all those NOISE!!
*Relaxing at Marina Mandarin Hotel*