Looking Great for Finals
(Sophia is looking sleepy... Nap time lah!)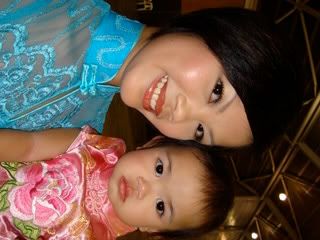 Cheeky Sophia & myself 
AFTER the competition!!
*she kept saying BYE BYE to everyone*
The Cheong Sam I was wearing had great sentimental values
It was the same cheong sam I wore 
for my customary wedding.....
The only difference is that 
the zipper seems to glide up alot easier 4 years ago!!!
I've put on 13kg over the last few years....
The weight is evenly distributed 
to the front, the back and the TUMMY!
So, I guess in motherhood, 
you gain some you loose some....
I've GAIN a loving husband, and 2 very attractive kids.....
and, I've LOST my "skinny like pole" figure.....

The good news here is 
I gain more than I loose!
But, I am not too bothered about that,
As long I am living, 
HAPPY & HEALTHY....
I am thankful
 and I count my blessings!
Unfortunately, We did not get to win anything at all...
Nevertheless, it was a great learning experience 
for Sophia & myself.....
We rewarded ourselves 
with Ice Cream at Swensen, Changi Airport