We all know that christmas is long gone....
But, Sophia is still stuck with the festive mood....
She kept insisting on wearing her christmas hat!!
*duhz*
Hiroshi is just amused that 
Sophia is STILL wearing her Christmas Hat, 
despite strange stares from passerby!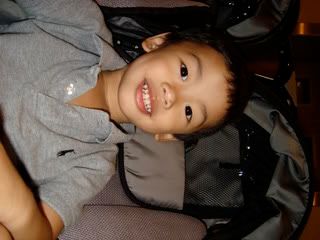 Tonight's Dinner
It's been quite sometime since I "decorated" the kids' food....
and since I was in the mood, 
I did this.....
tofu with mince meat, chestnut, carrot and topped with prawn
white rice with furikake
Xiao Bai Cai with Oyster sauce
I've been extremely busy with spring cleaning
for the coming Chinese New Year!
And I am pleased to say, the kitchen is finally cleaned!
But, the rest of the house still looks like we are living in a dump!
Oh God, 
Please send me a Fairy God mother to help me with this mess!