19.02.09
We set off from JB at about 11pm.
20.02.09
Arrived at 6am. 
Just time time for dim sum at Foh San!
According to Kitson, this is the oldest dim sum joint in Ipoh.
15 mins to 7am
A steady stream of customers are already filling up the place.
So the Ipoh people really Live to EAT!!
That's the close up of my char siew bao.
Taste wise, NOT BAD.
But, I wouldn't say that this is my favourite dim sum joint!
Daddy & Kids
Now we all know who's not a morning person!
*points at sophia* 
THE GRUMPY PRINCESS!!
Since we were so early Sister Linda & Mum 
suggested that we should visit the wet market.....
I love the smell of fresh herbs & vegetables!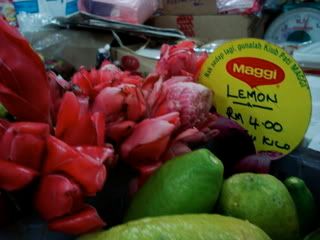 The store owners were very friendly & helpful!
"Mobile Wet Market"
How I wish NTUC comes to me as well!
Motorbike brimming with vegetables!
21.02.09
It's a busy morning,
and I woke up LATE!!
Arrgh!!
Mother-in-law and sister Linda is making Nasi Ulam.
A signature nonya dish
Herbs for Nasi Ulam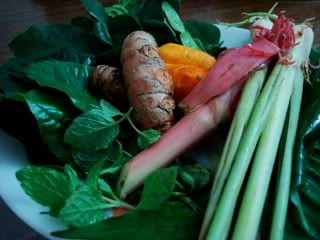 Tedious!
Look at how finely shredded the herbs are!
I've concluded that nonya food are a hassle to cook!
So better start hunting for a good nonya restaurant now!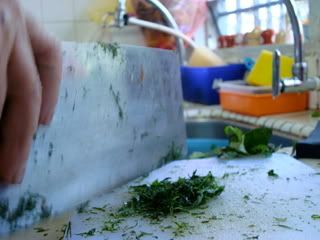 End Product
It's delicious!
I had 4-5 helpings to myself!
Tea Break at Sin Yoon Long
~The olden days starbucks~
White Coffee & Castard
I found this across the streets
This guy here is selling apong (Peanut Pancakes) on his bike!
The streets of Ipoh
Visited Niu yi @ her new home
BIG and very SPACIOUS....
and it cost Only 300,000RM!!
*the typical singaporean talking*
CHEAP CHEAP!!
Mother-in-law, Niu Yi, Sophia & Hiroshi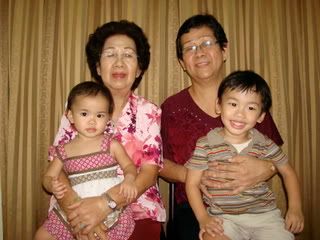 This is the reason why we drove 6 hours for a haircut!!
"The Star" reporter thinks that Andrew is GREAT too!
*ahem* The Greek God Hair Stylist!
 *pout* There goes my hair!!
Uncle Andrew, Please make me look as good as you!
This is Sophia's 1st haircut,
needless to say, she cried throughout the haircut!
Princess *ahem* Leia rather wear her star wars head gear 
than to show off her new hair style!!
Hiroshi is just glad that he still looks good!
It's a family affair!

We had dinner @ "Ipoh's Starbucks"
OldTown White Coffee
Hiroshi gets goofy while waiting for food!
He must be dead hungry!!
I my own opinion the food taste so-la-la
Nothing Fantastic!!!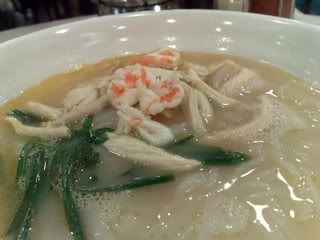 Mother-in-law, Sam Kam Mo, & Hin Ku
22.02.09
Traveling up to KL
Pit stop at shell station
This lil baby bird fell out of its nest!
Thank God Kitson saw it before 
it became as flat as pancake under tyres!!
Pit Stop for our Tummy at Pun Chun; Bidor
Yam Puff
*MUST TRY!*
Herbal Duck Noodle
Wantan Mee
I felt that the standard of food quality has dropped.
The wantan does not glide down my throat like it used to be....
Dunno what went wrong?!?
Petai, Petai everywhere!
They even do table to table direct sales
 while we were having lunch in the coffee shop!
Amazing! Can makan and shop for petai at the same time!!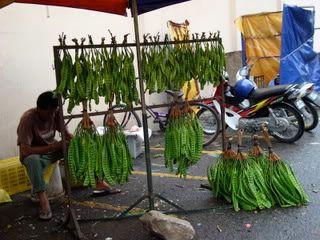 The whole stretch of shophouses were selling fruits
Great for a hot sunny day!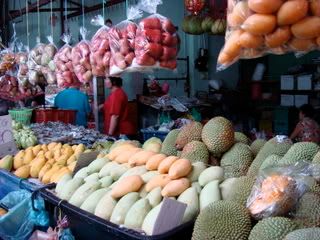 Finally in KL @ The curve
Donny & Hiroshi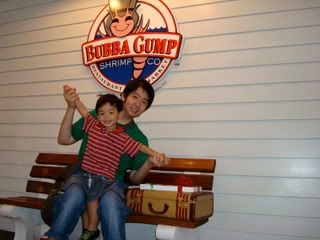 Still in KL, Ba Kut Teh for Dinner
Hiroshi, Kitson & Bryan
We drove all the way down to Malacca
and stayed in a fantastic hotel
Hiroshi is simply EXCITED over it!
It's 2am and he's still so jolly about it!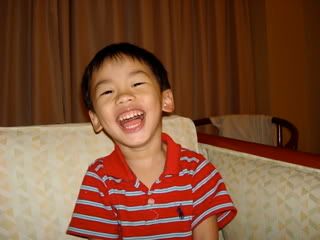 23.02.09
The view from our hotel room
The trishaw rider with their fancy trishaw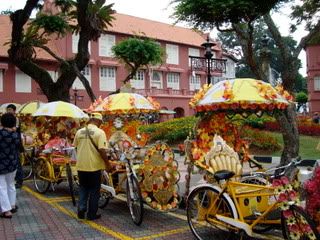 Some famous landmark @ Malacca
We tried 2 different nonya restaurant
Banya Restoran & Makko
In general most restaurant in Malacca 
has siesta from 2.30pm to 5pm...
Food wise, We enjoyed Banya Restoran better....
Desert wise, Makko's Chendol deseves 2 thumbs and 2 toes up!
Nice chunky kidney beans with fragrant gula malacca.....
Oh so YUMMY!
Malacca rich peranakan culture left me in awe!
I have fallen in love with everything nonya!
(and for your information I wasn't one of those 
that stayed glued to the screen 
when the drama series little nonya was airing!!! 
We broke the habit of watching TV pretty long time ago!
We do not watch TV at home!!!!)
So in my honest opinion, 
the best way to learn about a culture 
is to experience it yourself!!
Kitson's mum has a peranakan heritage.
She spoke dearly of memories she had,
of the delicious nonya food her mum used to prepare
(of which many she could only remember 
vaguely bits and pieces of the recipe.
I really think we should gather these recipes, 
record them and safe keep them!)
and also the beautifully crafted sarong kebaya her mother wore.
You could instantly see her eyes light up 
and feel her heart grew warm
when she spoke about the penang peranakans.
Thank God, my sister-in-law Linda 
managed to keep a couple of my Mother-in-law's kebaya....
and I inherited a set of it.
Words alone couldn't sum up how much it meant to me.....
It is special,
and it sits safely in my closet....
I once told myself
if I could shed the fats off from child birth,
I would get myself a sarong kebaya as a reward!
Although, I am still far off from being figure perfect,
I couldn't reisit but buy one!
And I think I am addicted to get more!!!!
I've gotten 
a set of sarong kebaya,
tali pinggang (Chain-linked belt)
Koronsang (3 piece brooches)
And I am determine to wear that for my cousin's wedding!
I am still short of the kasut manek(beaded shoe)
to complete the whole nonya look!!!!
Maybe in my next trip to Malacca 
I can look forward in getting one of those
*giggle*
I'll post pictures after attending the wedding.
Hopefully, I am able to pull the whole nonya look off!!
24.02.09
HOME SWEET HOME!!