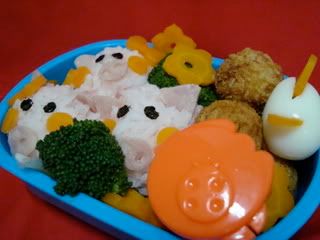 I used to be at my wits end!
Every morning I was struggling with a whinny Hiroshi
who told me he did not want to go to school!!
It got better when I started making lunches for him.
He would bid good bye with a big wide smile,
and cradle his lunch box on his lap ever so carefully.....
BUT NOW....
The drama-mellow-mama starts all over again!
Apart from not wanting to attend school,
He doesn't want the bento box as well!!!!
He even shouted in his dreams 2 nights ago,
"I DON"T WANT LUNCH BOX!!"
Sigh....
I must have made terrible lunch compared to the pantry auntie!
Even showing him this `3 lil pig' bento meal
did not entice him to go to school
or want his lunch box!
I am upset
& the 3 lil pigs are heartbroken!
O' lord, Please tell me what to do!