10 May 2008:

The cake display spells it all out!!
YES... The theme was Mickey mouse for Javier's first birthday....
Food served was BRILLIANT...
Very special indeed, 
seriously where else will you find 
a PRATA MAN making FRESH prata for the buffet spread!!
*thumbs UP* for the food!!
Happy Birthday Javier!!
*sorry... Not much pictures....
sleepy kids = cranky kids*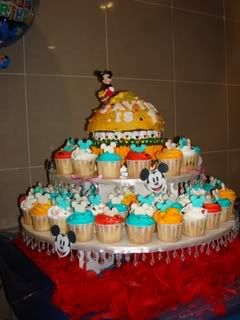 11 May 2008:
Everyone from 8 months to 80 years old were entertained!!
The Balloon Sculptor Entertainer was really really GOOD!!
The day started off with funky flower balloons 
for all the mummies as it is mother's day!!
then..........
The kids are fully engrossed with the entertainer,
as he skillfully churn out,
elmo,
bugs bunny,
road runner,
tweety bird,
and so much more!!
Hiroshi being SUPER ENTERTAINED!!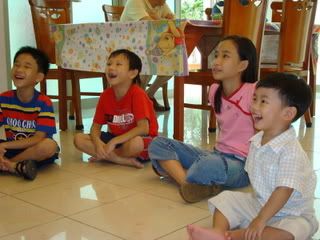 Jovial's first birthday was celebrated in Pooh Bear style....

Look at how pretty the cake is!!
Happy Birthday Jovial!!