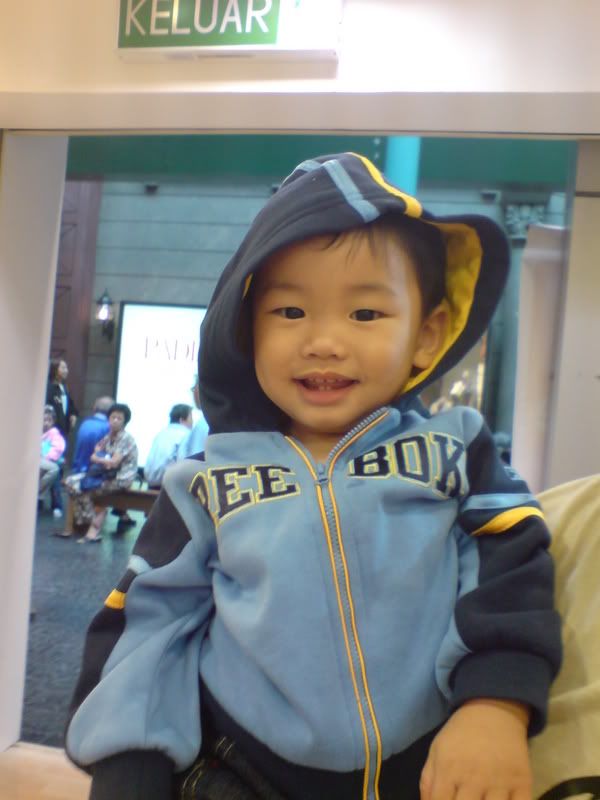 The car engine roared as we were crawling up the steep hills....
Daddy wind down the windows for us to enjoy the cool breeze....
Brrr... sooo cold!!
Thank God, daddy got me this
Reebok tracksuit from New York.....
I am feeling so much warmer now.....
This is my first trip to Genting....
Grandma and Kimpo went to
a Gaming Centre called "CASINO".....
Blink.... Blink.... All the flashing lights were so tempting....
I wonder if there are any televisions inside?!?
Maybe Baby Einstein, Hi-5 OR Barney was on?!?
Mummy says that kids are not allowed and we have to find our own gaming centre elsewhere.... *pout* So that was why mummy and daddy had to hang out with me.... It took us a long time to find the Indoor Theme Park as the sign were poorly displayed!! When we asked for directions, people pointed us to everywhere else BUT the Indoor Theme Park!! When we finally found it, a middle aged man tapped on daddy's shoulders asking if he would like FREE tickets to a magic show.... Being suspicious to the word FREE, daddy asked why he was giving out those tickets.... That uncle told daddy that he had too many tickets.... and could spare some..... Daddy saw the perfect opportunity to kill some time while waiting for the adults, so he accepted the tickets.....
we walked around the theme park.... It was jam-packed like sardines.... Mummy even had problems pushing the pram around.... Everything in the theme park was bright and cheerful.... Many interesting things caught my attention especially, the roller coaster above us. 'Mummy? When will I be old enoff to ride on one of those?!?" I hope that it will be real soon....
The magic show started at 3pm.... It was more like a musical and a magic show. The show lasted for an hour, I was patient enoff to watch 1/2 way through the show.... and the other 1/2, daddy had to carry me aside to pacify me as I was getting rather grouchy & tired.
.... Anyway, it was a Nice Show, especially the showgirl who disappeared under the box & EMERGED AS A WHITE BENGAL TIGER!!....holy smoke!
As soon as we were done with the magic show, grandma called daddy to tell him that they were ready to go..... We met up with the adults outside the CASINO.... Grandma was grinning from EAR to EAR.... She has won some money!.... YahooOoooooOOOooo.....
Yummy, it's time for a great meal!! Grandma's treat!!