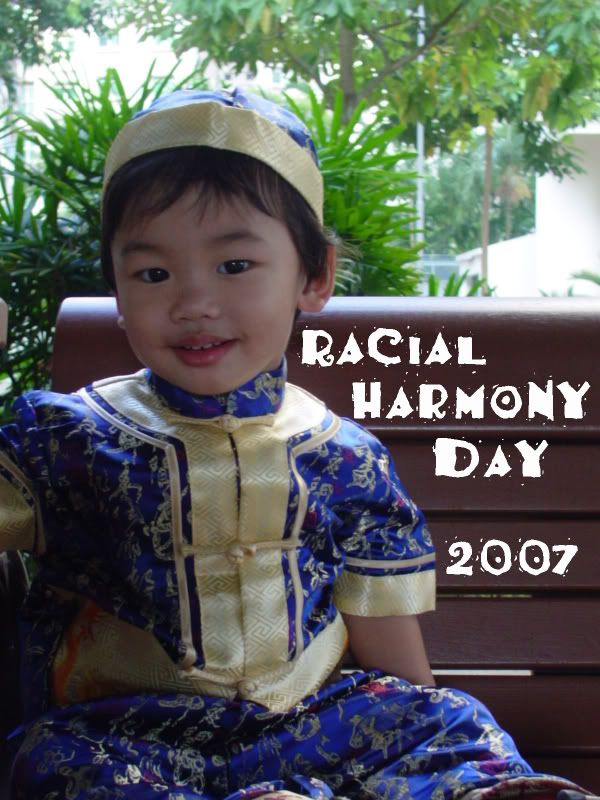 Today is Special!!
I didn't have to wear the school uniform today....
Issit Chinese New Year AGAIN?!?!
DUhZ!! What did you say mummy?....
NOT Chinese New Year arr??
There goes my hope of collecting ang bao....
and eating yummy goodies!!
It's Racial Harmony Day in school today.
We were encouraged to put on traditional costumes
to mark this special occasion....
Given a chance, mummy would love to dress me up in
other racial group's traditional costume....
BUT, too bad, she got the memo pretty last minute....
hence, NO CHOICE, I'm seen here with my gung-ho CINA-MINA attire!!
(which was what porpor got for me during this year's Chinese New Year.....)
Well, I am not complaining though....
I thought I look pretty charming in it!! *thick skin*

Lion Dance


Malay Traditional Game: Congkak

We even had yummy traditional food for lunch....
Prata, kueh buhlu, carrot cake, ang ku kueh, mini lotus bao.....
and lots more..... Even talking about it now makes me salivate.....

For all you know, I am already looking forward to Racial Harmony Day 2008!!