Mummy did this patchwork blankie for mei mei....

Most of the material are new...
BUT, the jeans and coudoury material
are from mummy's pre pregnancy pants,
which she could hardly even squeeze 1/2 of her tight in it now!!
which reads XS for size!!
Overview of the Patchwork Blankie
(material: cotton, jeans, coudoury)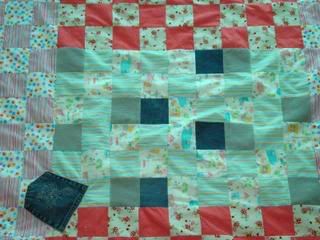 Interesting Details...
Mummy loved the design on the pockets,
so she sew it onto the blankie as well!!
That's cheeky mummy at work!!
She wants to be remembered as size XS,
Not a waddling Hippo on the loose!!
(material on the back: terry)


Not too bad for a homemade patchwork blankie, huh!?!?!
Way to go MUM!!