The last time I partied this much has to be slightly more than a decade ago!
And since age is catching up,
I think we've over stretched ourselves!
First stop, ZOUK.
Yeah... I know what you're thinking!
("Ain't you a lil too old for mambo jumbo?!?!?")
And we did the UNTHINKABLE,
We brought our 2 kids along!
BUT,
instead of Vodka Orange and Long Island Tea....
We were served free flow of juice all afternoon long!
It was awesome!
Hiroshi even met Santa Clause
and told him that he's been good and he can't wait!

Next stop,
Oceanus Christmas Party.

We've always been active members of our community
by joining many of their organized activities.
When our neighbour,
Mr and Mrs Santosh came knocking door to door
selling the Christmas tickets,
We bought 4.

The kids totally enjoyed themselves.
Another great party!

Well, the highlight of the even has to be the lucky draw!
Although, the prizes were not very "fantastic",
Our family got 1st and 2nd prize in the lucky draw!
Honestly, what are the chances of that happening?!?!?!?!?
Almost close to NEVER!
OMG.... This has to be the sign that we are heading into a BETTER new year!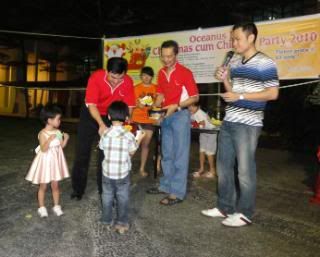 Both kids delighted that they have won something!!!
Wishing all readers Merry Christmas & a Superb New Year ahead!!!
HUAT arr!!!