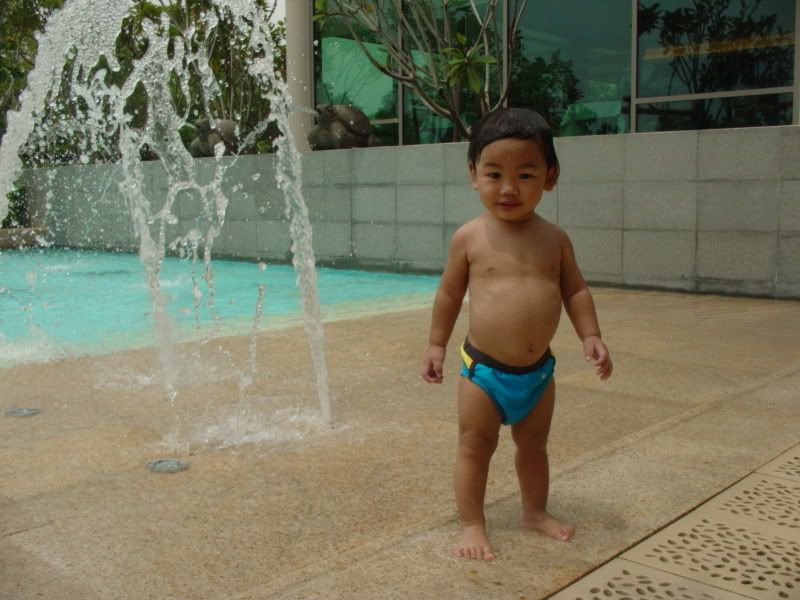 How's my flashy NEW swimming trunk?!?
Stylo-Milo, isn't it?!?
Mummy got me this swimming trunk from a kiddy store at Punggol Plaza....
I've got not much complaint about how it look,
except that i need to deposit little more BABY FATS to fill up the butt area!!
Looking at my old swimwear,
I've notice how fast I grew in the past 16 months....
Up till date, I can
show affection to mummy by kissing her on the lips
( i kissed her 6 times on that one day and has never done it ever since.....
daddy blamed it on mummy's bad breath....)
I could do flying kisses with loud smooching sound
(errr....only applies to pretty girls)
I could sign my own version of the word "train"
(mummy has been dying for me to communicate....
either by signing or talking....
she was esctastic when i repetitively signed the word "train" when I see one...)
-I am also trying to self feed,
I could feed myself mummy's favourite McDonald hotcakes with a fork!
(But, mummy is quite sceptical about letting me mess up
the dining table and floor at home....
Sigh.... Mummy, if you are so sceptical....
How am I suppose to perfect my self feeding skills?!?)
Oh also, I've learnt to throw a tantrum fits when things do not go my way....
Mummy calls me a "Wayang KING"
(mummy and daddy are not abit impressed by it....
they IGNORED me totally!! Arrgh....)