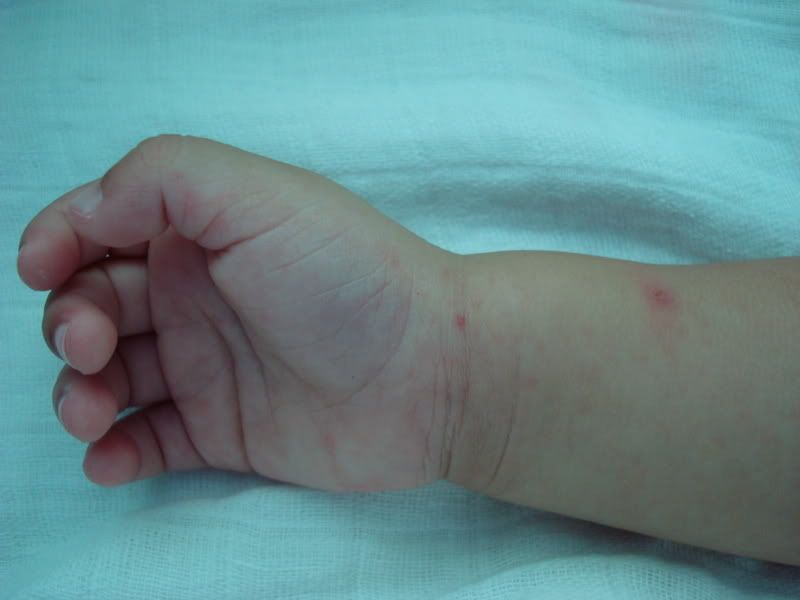 Fever did not subside....
It became a low grade fever in the morning.....
Nevertheless, mummy decides to bring me to the doctor.....
Since daddy had to work this morning,
Uncle Ray and Auntie Crystina came to help....
We reached the clinic slightly before 9am....
Which is the normal opening hours of the clinic.....
But, there was already a Kiasu Q forming outside of the clinic!!
Boh bian loh.... Wait, wait and wait loh!!
We went to get MacDonald's breakfast while waiting....
Mummy got me hotcakes happy meal with apple juice.
I refused to touch any of the hotcakes.....
(which was pretty worrying for mummy,
as I used to be very excited when I see hotcakes.....)
I only wanted the apple juice.....
During breakfast, mummy saw a blister developing on my hand.....
then she went.... "oh SHIT! Dun tell me it is HFMD!!"
Uncle Ray: Nah, it might be just a pimple. Stop scaring yourself!!
Mummy: *checking for more blisters* It looks like HFMD!!
Uncle Ray: let the doctor confirm it.....
Then... to the doctor we went.....
Sigh..... upon examination, CONFIRM, CHOP, GUARANTY...... HFMD!!
There were multiple ulcer on the palette of my mouth,
(that explains my food rejections,
even to all time favourite like ice cream and Ice Cold COKE!!!)
blisters were found on my hands and feet.....
High fever was part of the symptoms of HFMD too!!
I am excused from school for 7 days.....
And I need to return to the clinic to get a "Fit for School" letter from the doctor!!
What arse luck!! Why has it gotta be ME?!?!?
Oh........ Please Ti Gong.... Let me Get well soon!!