We celebrated mummy's birthday at Vivo City.....
1st stop to mummy's favourite japanese restruant;
Aji by Hanabi
delicious yummy japanese buffet,
and I get to eat my fill for FREE!!
Then to coffee beans, to rest and relax one corner...
Then to Häagen-Dazs.....
Mummy had New York Brownies....
with "chocolate chocolate chips" and "cookies and cream" ice cream
The lovely warm taste of browines still lingers in mummy's mouth!!
Thumbs up!! MUST TRY!!
Finally, Food Republic food court for toast box's
mee siam and traditional kaya toast for dinner.....
What a happy happy belly for mummy's happy happy birthday!!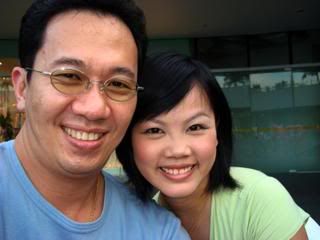 Daddy & mummy @ Vivo city's Water Play Area

Daddy & Sophia @ Coffee Beans
Mummy & Sophia @ Coffee Beans
Mummy & Hiroshi @ Aji by Hanabi
Backposting: 20th October 2007