New Kids On The Block:
Hua Xia International Pte Ltd
Punggol Plaza #02-09

This newly open establishment is what I call
catering for punggol residence "needs"....
As a new estate, I often see many new parents,
with adorable babies and children hanging around this mall.
BUT..... The down side about this mall is that there is NO nursery,
even simple task like changing diapers is a BIG PROBLEM....
as, I personally feel that the toilet
where there is diaper changing facilities are SUPER filthy!!

Okay.... let's stop bitching about the terrible mall.....
This is what Sophia did for today;
Hydrotherapy
This is where they put funnie looking inflated rings around your neck,
Make you dip into water, which is 35-37 degree celcius,
and massage you in the water.....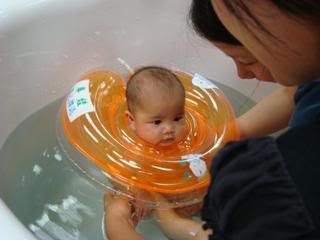 Infant Massage
So, what do you think?!?
Treatment fit for a pincess like Sophia!! (",)
Oh, They offer haircut service too!!
Where they put you on kiddy ride cars baber chair,
Personal Mini LCD television playing kid's central....
BUT... None of all these gimmick works for Hiroshi...
He was bawling throughout the haircut!!