One day, Hirsoshi came back from school,
he was clapping his hands and singing happy birthday to you....
(and of course 1/2 the time he couldn't get the words right!!
it was more like ha... hmmmmmmmm.... TO YOU!! ha... hmmmmmmm TO YOU!!
but, neverthless, I did understand him...)
So I felt that he either enjoyed his classmate's birthday parties...
OR he understands the importance of the day....
and therefore, we decided to celebrate his 2nd birthday in school....
Many people told me that they are just kids,
they wouldn't be able to understand the importance of the day!!
So Chin Chey will do lah!!
I personally felt that it is not true after all....
My best birthday had to be when i was about 2 or 3 year old....
Many aunties and uncles flock in with huge presents....
and the party food was GREAT!!
I also clearly remembered the terrible tasting BLACK FOREST CAKE
my mum got me for my 5th birthday....
(up to date, I still DETEST the taste of it!!)
And the beautiful 2 tier cake I got on my 6th Birthday....
(and it was 2 tier BECAUSE my sister and I celebrated our birthday together!!
And mind you, her birthday is a month away from mine!!)
So I set out to plan Hiroshi's birthday...
(in fact, I started planning many months ago!!)
I wanted it to be as perfect as can be!!
(*occupational hazard* I used to be a event planner,
so everything was to be tip top, there are no room for mistakes!!)
From cakes to party packs....
I want it to be memorable!!
And now, I present to you the BIG day.....
Cupcakes baked with Love (mama brand *smiles*)
Theme: Racing Cars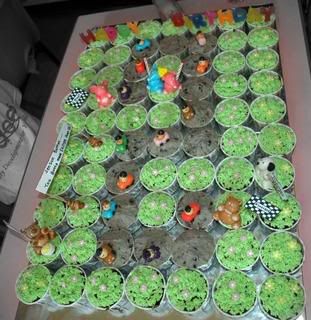 Close Up Sugar Crafts:
(racing cars & drivers)
(teddy bear that holds the "finish" flag)
(mouse candle holder)
(doggy fan supporter- this is my fav.)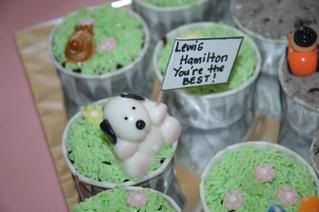 (cow fan supporter)
Hiroshi giving out goodie bags: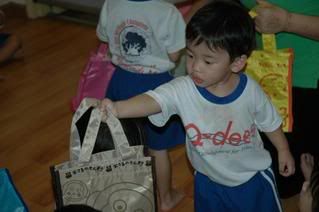 Girls admiring their goodie bags:
Happy faces upon reciving goodie bags: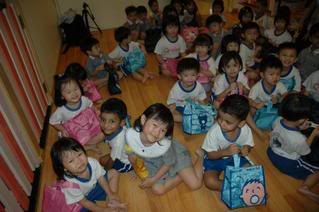 Contents of goodie bag:
A happy Hiroshi with his presents: