*mummy's rumbling*

I couldn't remember when was the last time
I had formal ANG MO sit down dinner.
It is either the the "disease" call FORGETFULNESS
I got from 2 pregnancies,
OR it has really been a LONG LONG TIME!!
Sitting down in the restaurant at
Sha Villa
,
Only 2 thoughts came to my mind....
1. How beautiful!! This was the place
Kitson and myself were pronounced husband and wife!!
Many great memories flooded in.....
2. Wah!! So many forks, spoons, and knife.....
What is for what liao arr?!?!? *panic*
Nevertheless, dinner went on "romantically"
with two kids beaming BRIGHTLY as
*ahem*
Candle Lights?!? or maybe Light Bulbs.
kekekekekekekeke.....
soup: califlower with spinich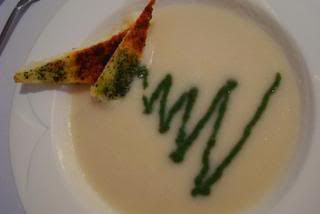 Main: Seabass with Sweet Potato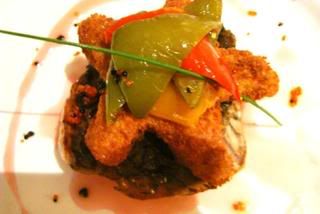 Main: Turkey Breast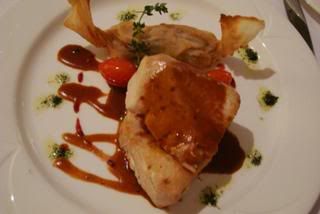 Desert: Can't remember the FANCY NAME!!
Close Up of Fancy Desert