*mummy's rumblings*

I used to think I meant the whole world to my baby boy.....
And I thought he could not live one night away from me.....
I was totally WRONG!!
The whole
jing
gang came over to spring us a surprise visit....
Which include, 
1) My third sister-in-law Peggy. her hubby,
 and her 3 kids Joey, Rachel, and Christine
2) My second sister-in-law Linda,
this was like special guest appearance, 
as she came all the way from
Ipoh
!!
3) Niece Alice, her hubby, and her 3 kids, 
Andrew ,
Heng
Heng
, and Thomas....
Hiroshi
usually have hell
lotsa
fun when they visit!!
And, he would also be very disappointed and upset when they leave...
so let's cut the long
grandmama
story short.....
It was time for them to go.....
A very comical
Hiroshi
quickly ran to this room 
to get his shirt and pants,
came out and shouted SHIRT!! SHIRT!!
When he realised that no was helping his with his shirt,
He quickly grab his trolley school bag, ran to the gate,
and shouted SHOE!! SHOE!!
No one was helping him with his shoes either.....

We were all busy giggling at him....
I urge my third sister-in law Peggy 
to bring him back to
JB
with them....
Her 3 daughters were over the moon upon hearing that....
Unfortunately, She did not want to run the risk 
of having a toddler, with inconsolable crying at bedtime 
looking for his mummy!!
So, I shut the gates and wave good bye to them....
Hiroshi
turned pouted and refused to say his good byes....
The more they said good bye to him....
The more tears I see swelling up in his eyes!!
Then my second-in-law Linda came back for him.....
You could see the instant change in his mood and reactions....
He changed into his shirt and pant with no complains...
I packed his Elmo trolley bag,
with milk powder, bottles, water bottle, 
diapers, clothes and his security
balnkie
....
He pulled his trolley bag and shouted SHOE!! SHOE!!
So we helped him with his shoes and OFF he goes....
Saying good byes to ME
and throwing KISSES to ME!!
So I thought to myself, maybe he will fuss 
when he notice that I am not there to put him in bed.
The worried mum constant
sms
to Alice to find out how his little baby was coping?!?
Only to be replied, 
"EVERYTHING IS FINE, HE IS NOT CRYING AT ALL.... 
GONE TO BED!!"
So..... My little baby boy is not such a "baby"
after all
huh?!?
Oh well.... Maybe kids can really accomplish 
much much more than we expect of them,
so maybe as parents we should put the
stigma
of,
"nah, he can't do it!"
"He's too young for it"
behind us.
and start
BELIEVING
and
TRUSTING
our kids abilities....
Thus, giving them INDEPENDENCE.....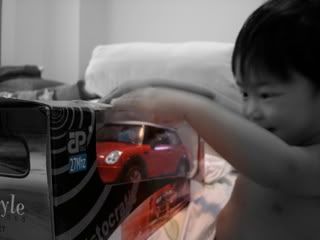 Chris Lee gor gor bought this mini cooper for Hiroshi