Steps to planning a ROYAL PARTY fit for Royalties:

Step1:
The Royal E-Invitation
(Since Charming, the royal horse is on MC,
mummy decides to send this invitation by email....
It has been proven to be faster and more efficient,
so therefore, the royal horse has been SACKED!!)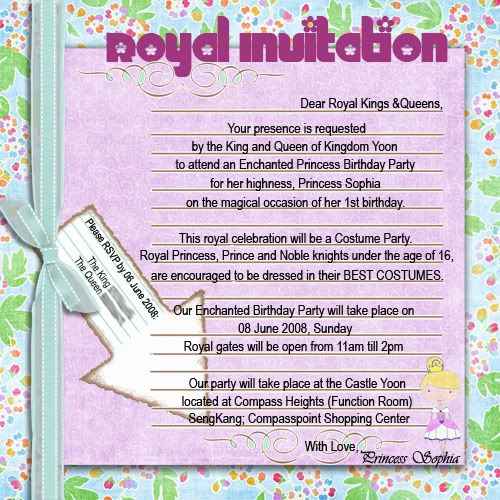 Step 2:
Party Bags
(What's a party without the goodies?!?
3 goodie bag fairies came by to help out....
Thank you Joey jiejie, Racheal jiejie and Christine jiejie!!)
Step 3: Castle Carrot Cake
(Healthy, Moist carrot cake,
filled generously with carrots, pineapples, rasins,
desiccated coconut & walnuts....
It has passed Princess Sophia's ISO9001 screening....
I hope it pleases your taste buds too!!
This cake is made with love by:
Thank you Daphne jiejie!!!)
Step 4: Daddy & the Buffet spread
Since commercially catered buffet hardly could pass daddy's standard....
Mummy challenged him into cooking for the party!!
Daddy NEVER, EVER, back down from a challenge like this....
So, after a night of hard work:

Desert:
(Thank you Sam Ku Ma, Sam Ku Jiong, Uncle KT & Uncle Ray
for helping out with logistic.
Thank you lulu mai mai for helping to set up the buffet)
*sorry... We forgotten to take picture of daddy's hard work*
Step 5: Decorate the Royal Ballroom
Pink, Purple and White helium balloons fills the rooms,
instantly giving it the girly, dreamy princess party look....
Scene setters completes the royal ballroom decorations.
(Thank you lulu mai mai for waking up SOOOoooOOOOooooOOO early