This is the state of my bag....
Ultimate Mess!
Not much of a problem
until you need to find that tiny bunch of key
when your balder is at the brim of exploding!
Made with Love Bag Organizer

Bag Organizer Rolled Up
Bag Organizer in my Chiong Agnes B Bag
Now I can change bags anytime I want to.
Even at the very last minute!
Just take out the bag organizer and swap bags!
Easy as A,B,C!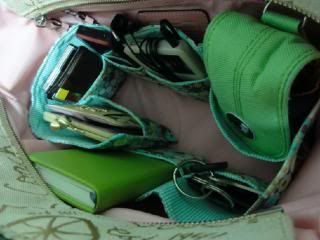 Finally,
No more pants wetting!
No more missed calls!
*grin*