Spanning 15,000 square feet, the spraypark features interactive features
to provide entertainment and amusement for children.
The design concept is to bring an interesting element of interactivity and fun
into the playground, thus attracting patronage the shopping centre.
Departing from traditional playground equipment,
PLAYPOINT design a mix of splash play and dry play in the playground.

The different elevated grounds between the dry and wet zone,
creates a multi-layered playground that creates a more interesting landscaping.

The Splash Park uses whimsical "Aquatecture®" from WATERTOYS.
It features a host of ground sprays pads
and equipment that creates a fun and vibrant playscape.
The 3 embankment sides are used
as a transition between wet and dry play zones.
It allows children to easily slide from the wet playground
to the dry playground with relative ease.

The Dry area also uses the KOMPAN playground equipment.
With ELEMENTS playground catering for 2-5 years old ,
GALAXY for the 6-12 years old
and a covered fitness area for adults,
it provides good entertainment fun for the whole family.
-source from www.playpoint.com.sg
This is the same company that designed and built
Rainforest Kidzworld at Singapore Zoo!!!!
Water Play is available at
Free Shuttle Bus from Yishun and Sembawang Mrt Station
from 9.30am to 10pm daily
shuttling between the wet and dry play area!
Hiroshi with the HUGE water gun!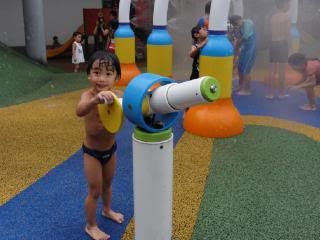 Sophia looking too feminine
for the mean looking water gun.....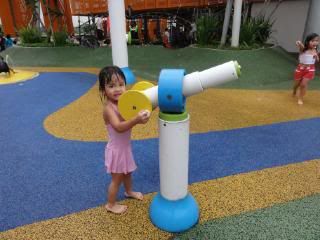 Hiroshi who refused to get out of the Splash Park!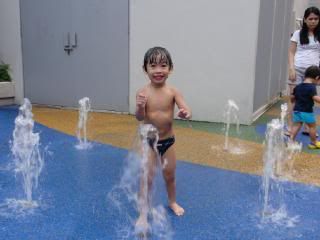 Adeline with all-showered-up Sophia
(taken by Adeline's hubby; Wein
with Adeline's canon 550D)
Dinner at Aston
Hiroshi saying: "I SEE YOU!!"
(Taken by Adeline with canon 550D)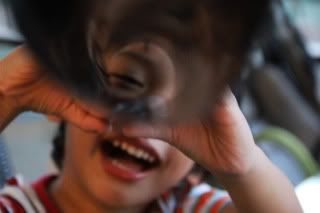 Cheeky Sophia
licking her mushroom soup mustache....
(taken by Adeline with canon 550D)
Great outing!
We should this again and again and again and again....