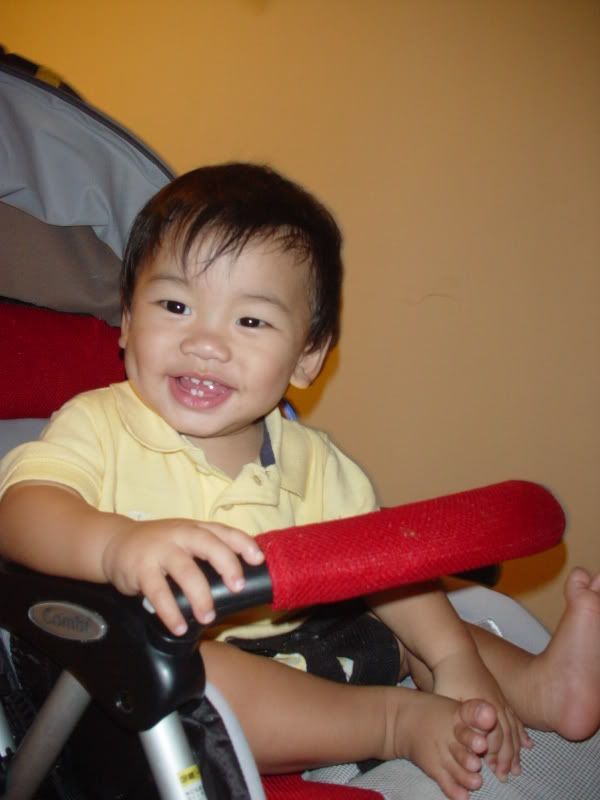 "The Mid-Autumn Festival; also known as the

Mooncake

Festival, falls on the 15

th

day of the 8

th

lunar month of the Lunar calendar, a date that parallels the Autumn Equinox of the solar calendar. At this time, the moon is at its fullest and brightest, marking an ideal time to celebrate the abundance of the summer's harvest. The traditional food of this festival is the moon cake, of which there are many different varieties.

The Mid-Autumn Festival is one of the two most important holidays in the Lunar calendar, and is a legal holiday in several countries. Farmers celebrate the end of the summer harvesting season on this date.

Traditionally, on this day, Asian family members and friends will gather to admire the bright mid-autumn harvest moon, and eat moon cakes and

pomeloes

together. Brightly lit lanterns are often carried around by children." -

Wikipedia

Mummy's Thoughts:
"Gazing at the moon, it just doesn't seemed as bright as the mid-autumn

festivals

of yesteryears.... It looked

blurred

and murky.... Sigh... Must be the haze!!
*looking at a small group of children having fun with lanterns, light sticks & sparkles* Isn't it so nice that such traditions are still passed down?!? It's heartwarming to see families bringing their children out with lanterns and big wide smiles across their kiddo's face....
I clearly remembered when I was very much younger.... The BEST mid-autumn festivals were celebrated with my cousins; Yen

Jie

Jie

, Ah Pei, and Ah Lu.... We will climb onto the tall tower in the playground to get the best view of the celebrations organised by the RC. Without fail, every year, there will be this terrible competition on who can eat the most

mooncake

in a limited amount of time.... You'll see super

UNGLAM

people stuffing

mooncakes

into their mouth!! I always thought, " GOD, they better not choke on

mooncake

and die from it!!" Can you imagine explaining to St. Peters at the Pearly Gates of Heaven that you choked on

mooncake

and ended up there?!? I am sure, he'll tell him that he's lying and send him back to HELL!!

Rahahahahaha

.... With all our candles, we stick them one by one patiently onto the tower's rails.... and lighted them up. They all look so beautiful, just like

ballerinas

dancing under the clear moonlight.... We carried flimsy paper lanterns, we laughed and giggled the night away without worries....
*some funky music from a kid's lantern snapped me outta my thoughts* Nowadays, you see lanterns in all space, sizes and design... Some even have wired FUNKY tunes that

doesn't

go along with the "mid-autumn festival" theme.... Well, I guess nation progressing, so lanterns also MUST progress... Ah

Boh

lose out....

DuhZ

... What a

Kiasu

nation we are?!?
We got

Hiroshi

this handmade lantern from

Ipoh

. It's amazing how

Hiroshi

plays with it.... He treats it as if he was walking a dog (well, maybe in this case walking a chicken) banging the lantern on the floor or flinging it all around him. It's a joy watching him do that... He's learning and exploring how to play with this "toy" in his own way..... Well, I guess this trend of handmade lanterns will be dying out soon if we continue to buy battery operated lanterns with some wired funky tunes which doesn't even co-

ordinates

with the theme.... I support going traditional. What about you?