11 aug '06:
SIA Sports Club
It was a rest & relax day in the morning.... We enjoyed ourselves soaking up in the pool at SIA Sports Club.... It was free and easy. I had fun.... Mummy and Daddy brought my rubber duckie travel bathtub (by Munchkin) and use it as a floatation device.... (how innovative!!) Papa tried to teach me how to use my hands and legs to swim in the adult pool.... I feel so much like a BIG BOY.... There was a pool with lotsa bubbles, the adults seems to enjoy it and say that it is a Jacuzzi.... whatever it was.... i had fun splashing in it.... We all had FUN in the baby pool as well.... Yasuhiro gor gor and Daddy (daddy was carrying me) played on the slide in the baby pool... So, how was water play in my baby world? Had as much fun as I did?
Night Safari: Then later in the night we went to the Night Safari..... At the entrance, we were greeted by "Orang Asli" dancers doing Aboriginal Dance with fires & flames! Luckily they didn't danced too near, otherwise I'll become like siau bak!... It was so captivating that clumsy mummy lost a ticket while watching the show.... Luckily, we got help from the manager, so dun need to buy another extra ticket!! Daddy next time dun let mummy take the ticket lah... She so "lun Zun" (clumsy in cantonese) We took the tram around the safari.... Mummy and Daddy could not understand much from the ride as the explanation was in Japanese..... But, Yasuhiro gor gor seems to be enjoying himself....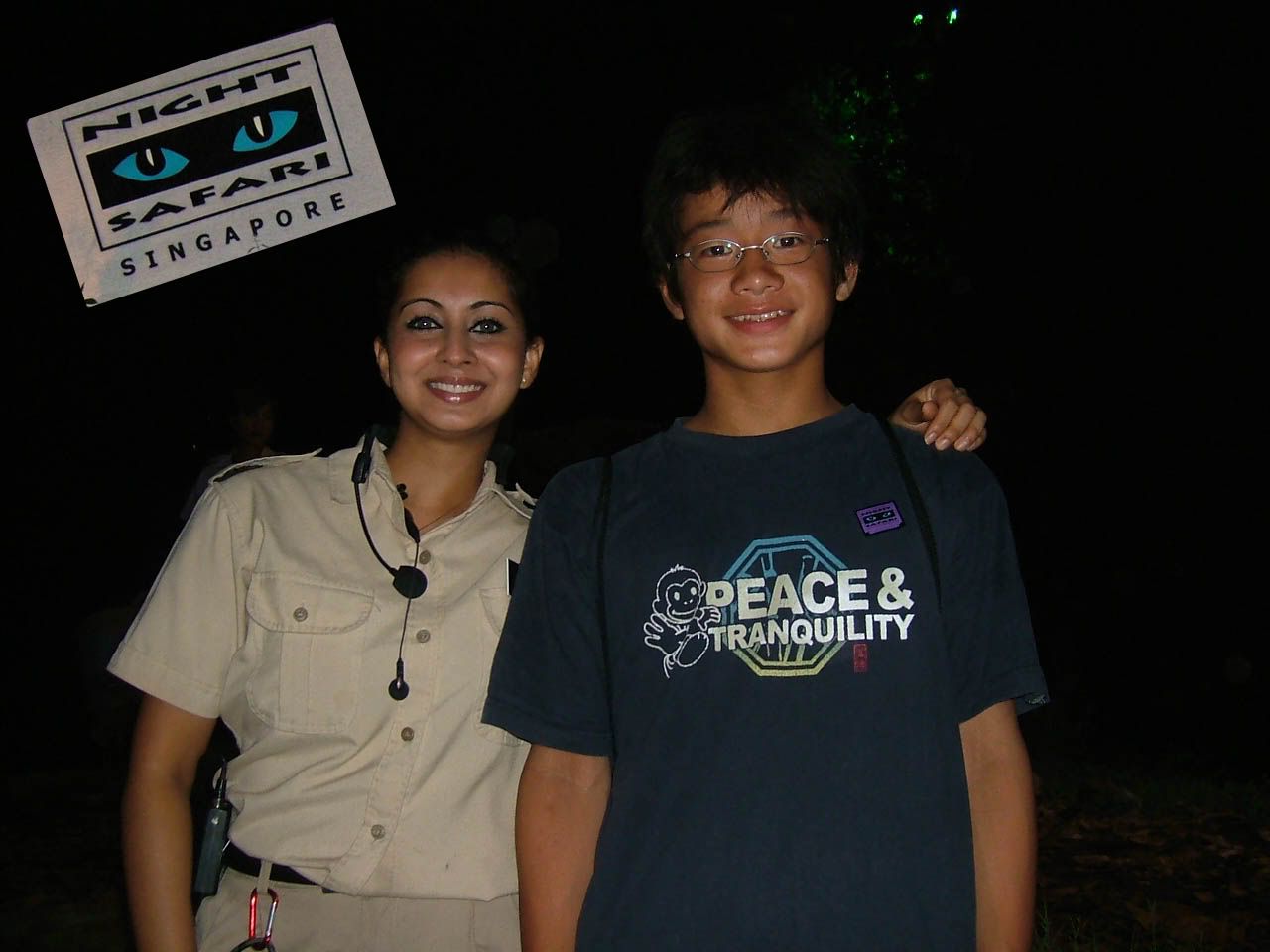 Next up, was the presentation show.... It was truly entertaining! *thumbs up* Cannot miss this one as well.... This is Yasuhiro gor gor taking picture with the show host; Sue..... Look at how Yasuhiro gor gor is smiling when taking picture with a pretty host... *ahem*
Then Yasuhiro gor gor and daddy proceeded to walk the trails in the safari..... Where was mummy?!? Enjoying herself at the restaurant drinking coca-cola!!
It was a educational night out.....