This balloonist is
*thumbs Up*
SiBehTokGong!
Sophia DID NOT win this balloon sculpture!
Another lil boy won it and GAVE IT to her!!!!
Isn't that amazing!!!!
To that lil boy's parents....
You are doing such a GREAT JOB educating your kids!!!!!
When children his age are still learning to SHARE,
He's already GIVING!!!!
*kudos*
Thank you very very much
for making Sophia so happy!!!!
That Isaac's favourite dance of all time;
LION DANCE!!!!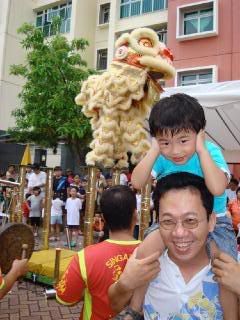 Isaac & Sophia having a ball of good time
in the bouncy castle!!!