With the fact of faithfully balloting over the years
and not getting ANY tickets has dampen our spirits
of celebrating the nation's birthday....
Truth to be spoken,
I can't remember when was the last time I celebrated National Day!
But, when I read about NDP at the Heartlands,
I totally love the idea!
And I knew I had to bring the kids
even if it meant battling with the whole world
on the public transport system!
The backdrop for the heartland celebrations
is a two way live telecast
which will link the Padang to the 5 heartlands.
This link will allow near instantaneous interactions
between the host and audiences at all 6 locations.
The heartlands is a mini mirror of activities at the Padang....
The celebrations kicked off with 3 entertaining emcees;
Jeanette Aw, Lee Teng & Vijaya Pawade....
Guest of Honor;
Member of Parliament for Pasir Ris-Punggol GRC
Teo Chee Hean & Teo Ser Luck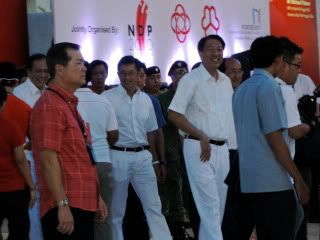 Special Guest Appearance by Singapore Idol
Hady Mirza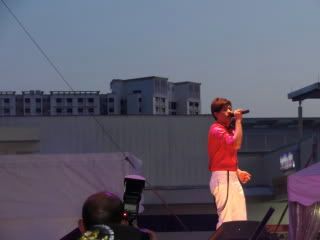 Hiroshi who was mad excited about the
Aerial Fly Past & Mobile Column...
Sophia who couldn't stop swaying to the wonderful songs,
especially "stand up for singapore"....
We've got FIREWORKS
which went off simultaneously with Main Parade at Padang!!!!
We've even gotten goodie bags!!!!
All thanks to some very kind uncles from Aljunied-Hougang GRC!
They gave us tickets for goodie bags redemption....
which totally made the kids' day!!!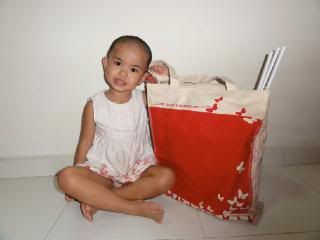 Happy 45th Birthday Singapore!!!
I am still going to faithfully ballot for tickets year after year!
Hopefully, someday we'll get to watch National Day at the Main Event.....