When Kitson told me that he read an online article
raving about this Peranakan Restaurant,
I must say that my mind and heart was clouded with DOUBT...
I couldn't recall how many times I was badly disappointed
from the restaurants
with so call superb raving reviews!!!
I was secretly crossing my fingers
that this would not be another one!
And thankfully,
It has performed way above my expectation!
Jonker's Nyonya Deli @ Thomson Plaza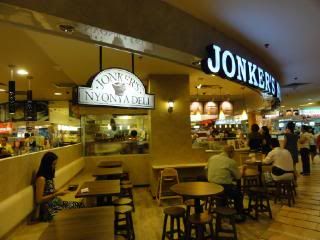 The Dry Mee Siam and Assam Laksa is a MUST HAVE!
Just forget about calories counting today!
I bet you are not going to regret this!
Dry Mee Siam
Sedap!
A far cry form our local ordinary mee siam!
I seriously cannot put out in words how this dish taste like...
But, it's definitely something that I will go back for again and again!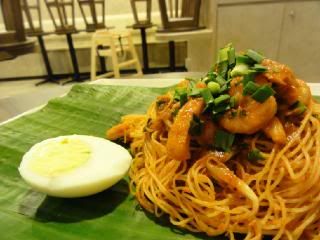 Assam Laksa
I am a great assam laksa fan!
I simply cannot resist it when I come face to face
with this fabulous dish!
And Jonker's Nyonya Deli has nail it!
Touched my sweet spot and sooth my assam laksa cravings.....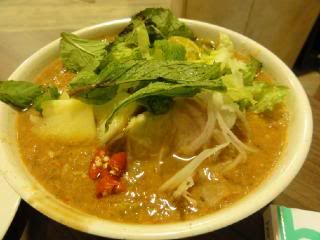 Flavors were balanced out perfectly!
Generous mackerel flakes in Gravy!
Heavenly!!!
Kueh Pie Tee
Smaller than the ones found outside....
(perfect sizing for a lady's dainty mouth)
Somehow firmer crust....
But, I DO NOT think this is a must try!
It would be be under the category
"try if you still got space in tummy"....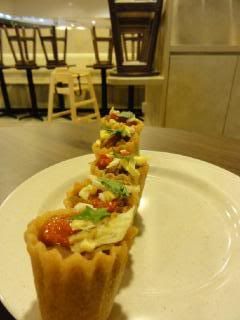 This is the note that comes with every bowl of chendol ordered...
The chendol strips are homemade!!!
Chedol drizzled with generous amount of Gula Melacca
Kitson blurted, "this is F**KING good!"
the first instant he tasted this yummy desert!
(pretty rare for someone who hardly swear!)
So this is really DAMN GOOD!
It's a MUST ORDER!!!
Amazing Service as well!!!
(Btw, it's self service!)
Jonker's Nyonya Deli
301 Upper Thomson Road
Thomson Plaza
#01-105A
We rode around the estate near Thomson Plaza
and found this really cool house at 30 Gardenia Road.....
I love it, love it, love it!
So Arty Farty!
Main Gate
So kampong-ish loh!
Unit Number made from blots and nuts!
Creative!!!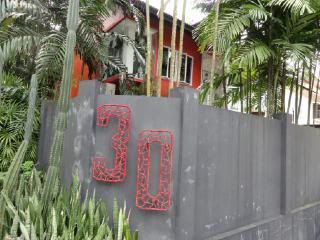 The most unique mail box I've ever seen in my life!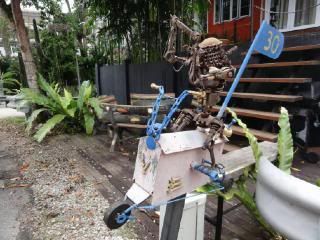 And if the owner of the house happens to be reading this blog...
Can we visit your house?!?!?!?!?
I am dead curious to know how the interior would look like exactly!