I thank God for the fact that
I am able to read, write and understand....
For many who often overlook how important these skills are,
they are the very ones that kept me learning,
through my life as a Stay At Home Mum....
I love the internet as it is so bloody informative!
I can google and get all my answers in a spilt seconds.
If you ever need a clearer picture?!?!?!
Just YouTube!
I bet you can find anything and everything there!
The beauty of being a modern mum in our century
is that we are much more well informed
from what we see and what we read....
Thus,
we are able to provide more for the kids;
especially nutritious yummy home cooked meals.....
Sophia LOVE yoghurt!
(This is a strange fact,
the kids would rather take yoghurt than ice cream.....)
Hiroshi is the ever homely guy who LOVES home cooked food!
(He has now taken an interest on cooking
and would constantly request to help out in the kitchen!)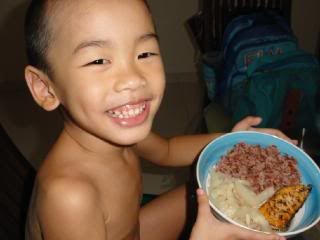 I think these are my 2 most motivating factors in my life by far!
Seriously, what more can you ask for?!?!?!?
Thank you God!!!