This is seriously like a fairy tale come true!
We've always thought that Jerlin and Jerold
would make the finest couple
during our training days in SIA.....
And when they dated,
we looked forward to receiving their wedding invitation card
year after year!
And finally.....
After 7 years of dating,
they are bravely taking the walk down the aisle
to be pronounced husband and wife....
Jerlin; the gorgeous looking bride & myself!
It was also the opportunity to catch up with batch mates...
Time really flies!
They are going to be getting their 2nd gratuity soon!
That's almost 10 years of flying!!!
L to R: My flying BUDDY; Joyce, myself,
the happily married couple; Jerlin & Jerold and Yanti
My beautiful kids...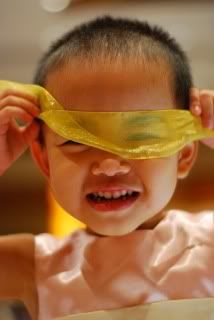 F.A.M.I.L.Y
That's what comes next after walking down the aisle...
Congratulation to Jerlin & Jerold!
Wishing the couple
百年好合, 早生貴子!!!!