Franklin has been drooling like the Mississippi River!
But each time I visit Kiddy Palace,
I just can't bring myself to buy any of those bibs.
The pretty ones are expensive.
The cheap ones are ugly.
It can't be that tough making bibs right?
I am determine to make some really cool looking ones
that will also effectively dry up the drool pool!
You'll need
1/2 meter Pattern Cotton Fabric
1/2 meter Cotton Terry Fabric
Snap Buttons
On the Wrong Side of the Pattern Cotton Fabric
Draw a 13" Square
Mark the Diagonal line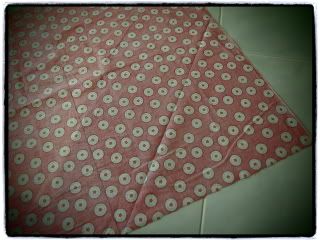 Pin Cotton terry fabric to Pattern cotton fabric
Right side facing
Cut out square
then cut diagonally to form 2 triangle
I've also cut out a slight curve
on the neckline of the bandanna bib
so that it will not be so bulky
on Franklin's near non existence neck..
It should look like this.
13" on both sides.
The longer curve side is about 18" in length.
It's even big enough to fit right around my neck.
So don't worry about it being too small for your baby.
Sew 0.5cm around the edges.
Leaving a space of 2" open.
Flip the bandanna to the right side
then sew 1/4" around the edges.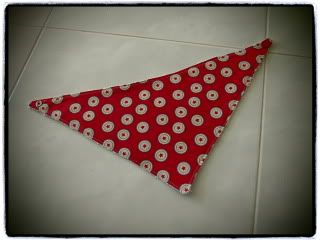 Fix Snap Buttons.
And voila,
You are all set to rock and roll!
Now get your little munchkin.
It's time to show off that
Super Duper Awesome Bandanna Drool Bib!!
Total cost per bib is about $4.50Sgd
Project can be accomplished in under an hour.
Now, the only problem is,
1/2 a meter of fabric will yield 6 bibs.
6 bibs of the same design and pattern.
How boring!
Anybody wants to make these
and have a Bandanna Drool Bib Swap Party?!?!?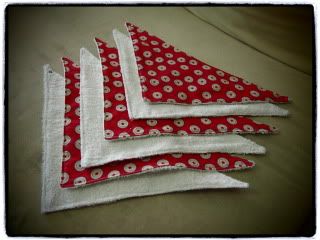 Have Fun!