We review it so that you can save your calories for better food.
Remember in my last Foodie Friday posting I was raving about Yam's Kitchen?
My curiosity got the better of me.
I kept thinking about it all week.
If the starters could tantalize my taste buds so much,
the main course should (by right) blow me right outta my seat
This calls for an emergency trip to Yam's Kitchen for Lunch.
Vegetable with mushrooms in superior stock
Unique,
but it is also something that I could outta my own kitchen.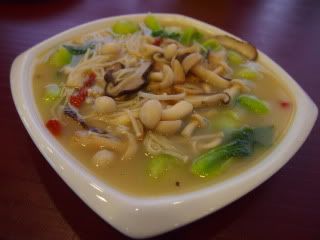 Yam's Kitchen Tofu
Seems to be homemade.
Smooth and nice.
But, sauce a tad too sweet for my liking.
Oyster Sauce Chicken
When I asked Kitson, "how's the chicken?"
His reply was chicken LOH!
So What Oyster Sauce are we talking about here?
Deep fried fish with garlic and chilli
This one seems to be the saving grace of the whole meal.
Crispy fried fish in slightly spicy but tangy sauce.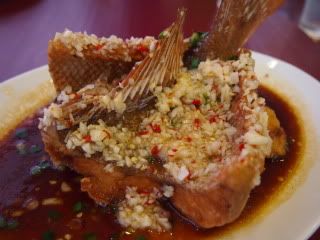 With all honesty, I was a little disappointed with the food.
Perhaps the benchmark was already set in my last visit
and having to beat it seems to be like a very tall order.
But still,
it is a nice place to visit for
finger food and desert.
Yam's Kitchen
1 Pasir Ris Close #04-101
Downtown East
Tel: 65845884