We review it so that you can save your calories for better food.
Buddy Hoagies Cafe & Grill
1 Pasir Ris Close
#02-126 Downtown East
Tel: 65821477Fax: 65827076
The ambiance of the restaurant was warm and cozy.
A perfect place for catching up over beers.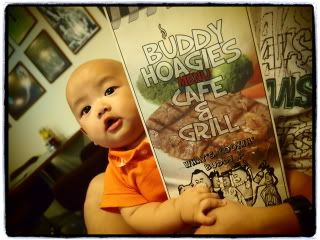 Mushroom Soup that came with the Set Meal
Nothing fancy, tasted just like those you could get right out of a can.
New York Steak
Sides: Mac&Cheese & Baked Potato
It does look really promising,
but, it has failed the taste test.
For the price paid,
I would say Aston would be a better dinning choice in comparative to Buddy Hoagies.
Food was edible, but not enjoyable.
Service staff were nonchalant.
Will return for a beer,
but never a meal!

Asli Satay Club
Stall 19, Asli Village
#01-03, 1 Pasir Ris Close,
Downtown East.
I love people who make a difference in the work they do.
Other than the conventional satays, which they call Original satays.
They had a choice of tender satays as well.
I was told that other than being more tender than the original satays,
tender satays were less sweet as well.
The aroma of satays whet my appetite!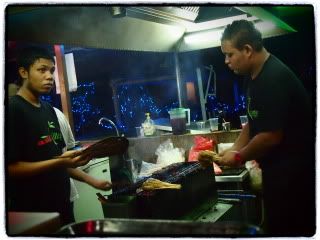 Many other "exotic" satay choices includes;
Duck, Babat, Paru, Hati, Chicken Hot n Spicy, Mushroom.
They even had BBQ Prawn & Baby Octopus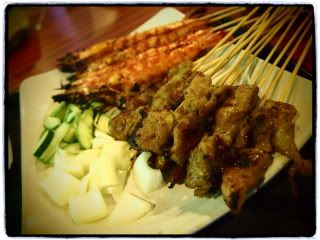 Both kids were polishing up their satays in lighting speed.
The only setback was the satay sauce.
what a pity, if they had better sauce,
I am sure this satay experience would be out of this world!
We were almost filled to our very brim.
But, since the kids said they were still hungry,
we hunted for more yummy food to entice our taste buds.
We stumbled upon
Yam's Kitchen
1 Pasir Ris Close
#04-101 Downtown East
Tel:
65845884
Fried Fish Skin
Oh Gawd!
Tasted like crunchy hot koropok.
Instant hit with the kids!!
Prawn Rolls
I didn't care much for the prawn rolls.
It's same old same old with the ones I had elsewhere.
But the sauce for the Prawn Roll was good.
Very balanced in tasting. I like!
Friend Pumpkins with Salted Eggs
They call this the Chinese French fries.
I ABSOLUTELY LOVE THIS ONE!
Bean Curd with Hashima
Sophia polished up all the good stuffs.
She's a real foodie!
Azzura Gelati Ice Cream
These ice cream are imported from Australia.
And the owners are selling them really close to cost price,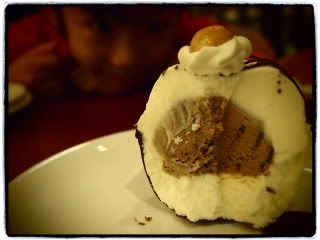 We even get to meet the chef and owner; Mr Yam
Thank you for the great food!
Will definitely make another trip for main courses!