Took a bus into Malaysia; Johor Baru.
It's Chinese New Year get together with the in-laws.
As we waited at City Square Mall for my sister-in-law to come pick us up,
I marveled at the newly renovated Mall.
Walked aimless around to kill time....
And I felt a tinge of excitement when I saw 許留山.
It's too good to be true!
This is one of my favorite dessert stall in Hong Kong.
I am delighted to find it right across the causeway!
An hour bus ride from where I am!
I wonder if the food live up to it's reputation.....
Got to have it!
Even though lunch appointment with the in laws is in 30 minutes time!!!
We ordered our usual repertoire of yummy snacks,
as we would when we were in HongKong
The food has far exceeded our expectation!
Our Must Try Recommendation Includes
糖不甩, 萝卜糕 & 粒粒芒A系列.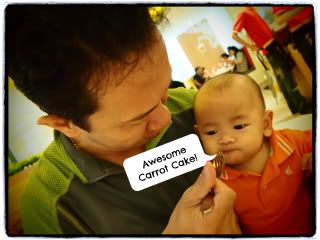 Not only did it taste as good as the ones in HongKong.
It somehow tasted even better
when we realized the prices are slightly cheaper
as compared to the ones in Hong Kong!!
James the Foodie
Totally agrees that it is a worthy restaurant
to visit over and over again!
Lunch was at Crowne Plaza Hotel.
Authentic Japanese food.
At a fraction of the price compared to Singapore.
But, I still prefer my Japanese Buffet at Iridori,
River View Hotel Singapore.
Dinner prepared with love from my mother-in-law
Our Home Made Yu Sheng
Surprisingly, apples makes a refreshing touch to Yu Sheng!!
Hiroshi gladly finishes up a big plate of it
and declares it as his favorite Chinese New Year food!
年年有余
Our Yummy Smoked Salmon for Yu Sheng
旺財就手
Prosperity Pot
当归鸭
.Cousins.
A family picture before we indulge
in all those auspicious dishes.