For the 10294584th time,
Happy New Year is just not the same as GONG XI FA CAI!
The term "Happy New Year" is used
when celebrating the first day in the first month of the calendar year.
Whereas, "GONG XI FA CAI" is an auspicious greeting you use
in celebration of Chinese New Year
which falls on the first day in the first month of the lunar calendar!
恭喜发财!
4 simple characters, but yet, a wealth of meaning behind it.
It means Congratulations and best wishes for a prosperous New Year!
We would love to preserve Chinese traditions,
especially this one.....
So we would really appreciate if you would reciprocate
when we wholeheartedly greet you
恭喜发财
in our next Chinese New Year visitation.
This year was a little extra special.
We had my mother in law who came from JB
to celebrate this festive season with us.
大年初一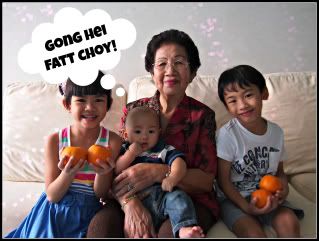 Family Portrait before we head out
James was still having bronchitis,
so he needs to be on the Nebulizer every 4 hourly.
Happy Gas!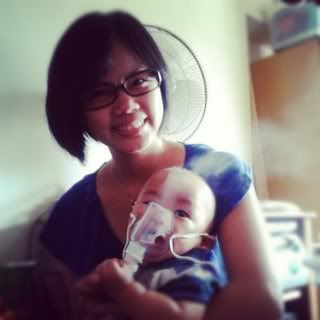 大年初二
Another Family Portrait before we head out
It was suppose to be all Cousins

P

hotoshoot.
Apparently, some aunties 不认老 also want to join ou

r generation!
Next Generation of C

ousins
Having a baby is the best way to warm people up.
Kids were all looking forward to the lion dance all morning!
Our Family portrait with the cheeky entertaining lion.
Even James got acquainted with Mr Lion!
We ended up at Dian Xiao Er @ Changi Airport T3
because Kitson had to report for work that evening.
Fa Cai Yu Sheng
Dang Gui Duck
Ee Mee
Longevity Noodles
Mixed Vegetables that has a wonderful nice sounding name
that I cannot remember!!
Wheatgrass Tofu
We were pleasantly surprised
at the unbelievably great service we received that night!
Very well trained staffs!
*thumbs up*
Will patronize over and over again.
And while Kitson reports for flight
-
-
-
-
-
Grandma shares some lighthearted moments with Grandson.
And finally,
Sophia wishes one and all
A Prosperous 2013!