<<08.05.09>>
Battle of the Penang Tau Sa Piah
Although Mother-in-law kept insisting on the brand Ghee Hiang,
we still drove by Kim Hiang to give it a fair trial!
Unfortunately, my final verdicts stands along side with my mother-in-law....
Ghee Hiang does taste a tinge better!
Might be the individual "4 tau sa piah in a pack" packaging
that allow it to retain its freshness better.
My MIL swears by the sesame oil from Ghee Hiang too!
~Travelling Up to Ipoh~
Instead of using the penang bridge,
Kitson took us on a ferry!
Yep... The CAR on the FERRY!!!
I've never travelled this way......
But, I thought it was a great experience!
The kids loved it too!
~Ipoh~
We took the opportunity to visit Kitson's Auntie & Uncle....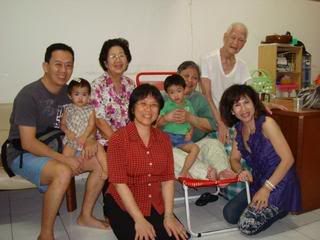 Hiroshi & Sophia learning to appreciate chinese tea in a vegetarian Restaurant
before travelling up to KL....
<<09.05.09-10.05.09>>
We met up with Donny and was treated to buffet at shogun @ Sunway Pyramid!
Great Oyster but Terrible Sashimi!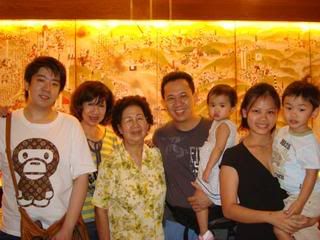 <<11.05.09>>
First and foremost,
HAPPY MOTHER'S DAY!
"Being a
mother
is one of the
highest salaried jobs
...
since the
payment is pure love
."
~Travelled down to Malacca~
We were there for nyonya food again!
But, unfortunately, NO PICTURES!
We were too hungry and globbled down our food!
Nevertheless, I am still excited!
I've got a brand new set of Sarong Kebaya.....
But, I am waiting for a speical occasion to reveal it...
*wink wink*
~Travelling up to JB~
Rushing back to JB in time to enjoy Mother's Day Dinner
with Sister-in-law, Peggy and her family.....
Great Food + Great Company = Great Night Out!!