I love visiting the dentist in school when I was a little girl....
That gives me time off from attending boring classes...
and I've always secretly hope that it's Chinese lessons they interrupt!!
My mum makes me brush me teeth gazillion times a day!
And the vainpot in me enjoys staring at my own reflection
while getting my teeth brushed......
And furthermore,
I am naturally blessed with a very good set of teeth!
So you see,
I've really got nothing to fear about going to the dentist at all!
But, when I became a young working adult,
hectic work lifestyles & laziness sets in
and I started neglecting my teeth.....
I've only started to see the dentist again
when I started working for SIA.
And I swear in my life,
I WILL NEVER VISIT THE DENTIST AGAIN!
It was a truly bad experience!
It was painful for all I can remember...
And the dentist refuse to even stop
when he see tears streaming out of my eyes!
Needless to say, I stayed away from dental clinics
and anyone who told me that they were dentist by profession!
Recently, it was by chance
that Kitson found a good dentist at Hougang Mall
and strongly urge me to have my teeth looked at someday....
He booked the appointment on my behalf and made sure I went for it....
*smile*
I would say that sitting on the dentist chair made me worried,
the noisy dental equipments elevated my fear of the dentist all over again!
BUT, I had to stay brave for my lil Hiroshi
who was watching the whole procedure on a chair at the corner of the room....
Hiroshi must have felt the same about dentist....
Scary people behind masks!!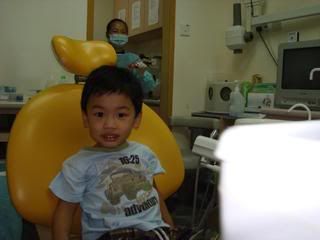 Some funky shades that changed his views....
That's me with my sparkling teeth.....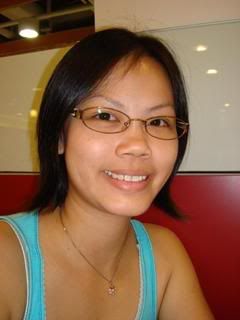 I had no regrets visiting this dentist.
She is really professional!
Will be going back again and again!