The story of 12 chinese zodiac
Event of the day that got all the children all hyped up!!!
Lion Dance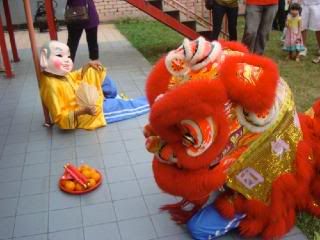 Hiroshi protecting his delicate ears
from Drums and Cymbals!
Looks like daddy is having a lot of fun too!
The owner; Sally revealing the lucky number
given by the heavenly lions!
HUAT, HUAT, HUAT!
Yu Shang
freshly grated by the hard working teachers.....