Back Posting 12.03.2010 - 15.03.2010
In my personal opinion,
making friends are easy,
but maintaining friendship is hell of a tough job!
Maybe that's also the main reason
why I do not have any close friends
that I'll call BFF or Buddies....
When I met Kitson,
I am AMAZED at the friendship he shared with 2 other guys...
One is Brian, his cousin
and the other is Eddy his childhood friend.....
(which through the years became a family friend)
They have been buddies for at least 30 years and counting!
How could a friendship have lasted this long?!?!?
Their friendship lasted through an era
where there wasn't sms, email, msn or facebook.
It's a friendship
that has withstood distance and time....
Whatever that has kept your guys going,
I'll say keep it up!
Your friendship is a remarkable one!
We were delighted to play host during their recent visit to Singapore.

Outside Ding Tai Fung
after filling out tummies with delicious 小笼包
With Brian's Kids;
Sophia, Mikki, Hiroshi, Yuki, Fei Fei
Yuki, Sophia, Mikki, Hiroshi, Fei Fei
Mikki, Yuki, Sophia, Fei Fei
Have you ever climbed trees?!?!?!
I've NEVER climb a tree in my life,
so this looks really FUN to me!!!
Fei Fei, Mikki, Hiroshi, Yukki & Sophia
Sophia & Kitson
having a great time climbing trees!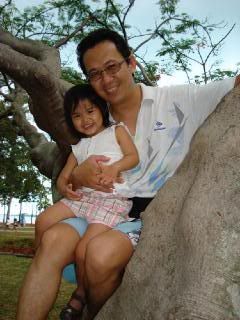 Hiroshi having FUN cycling at East Coast Park
Cheers Great Friendship!!