I love roast lambs.
I'll always have them on my Christmas Party Menu.
Belly Happy Guest would usually ask for them year after year
and I am happy to oblige.
Here is the recipe for our Roast Rack of Lamb.
It's in fact a no brainer.
At times,
Less is more.....
Especially when it comes to Lambs.
(Marinate 1 Night in Advance.)
2 racks of lambs; trimmed & frenched
Fresh Rosemary
Olive Oil
Few cloves of Garlic
Salt and Pepper to taste.
Instructions:
1. Preheat oven to 200 degrees.
2. Sear the rack of lamb in a skillet
3. Bake in the oven until brown on top and medium rare in the center.
About 20-25mins.
I usually like to bake by placing seasonal vegetables
at the bottom of the rack of lamb.
After the lamb is ready,
take out the lamb
but further bake the vegetables for another 10mins.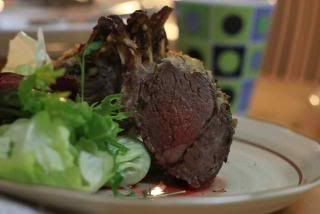 There you have it.
Yummy Roasted Rack of Lamb.
It will goes really well with Baked potatoes too!
Easy Peasy Cheaterbug "baked" Potatoes
2. use fork poke many many "ventilation holes" in potatoes
3. wrap potatoes in paper hand towel and moist it
4. Microwave it! (1200w microwave)
small potatoes 3-4 mins, medium potatoes 5-6 mins big potatoes 7-8 mins
5. remove paper hand towel, wrapped potatoes in foil.
6. put in my mini toaster oven and bake for 15 mins.
Tomorrow, Jayne Chua,
a photographer and hobbyist writer, a mother of three kids
will be sharing her recipe on
"Blue Cheese Creamy Mussels"
on her blog.
(http://jaynechua.com)